Averatec N1200 Series Netbooks "Thinnest, Lightest" On The Market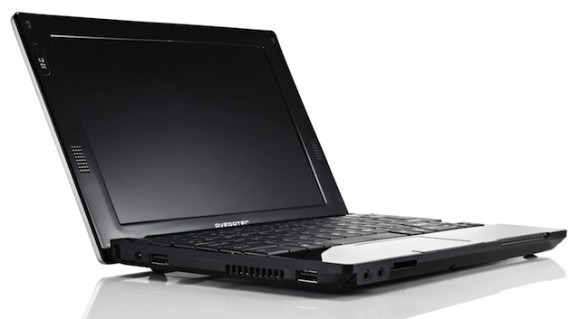 Averatec have launched their latest netbook range, the N1200 Series, and according to the press blurb they've created the thinnest, lightest 10.1-incher on the market today.  At less than an inch thick and weighing under 2.2lbs it's certainly on the skinny size, though inside you're dealing with the same 1.66GHz Atom N450 processor and GMA 3150 graphics as any other netbook.
There's also 1GB and a choice of models with 160GB or 250GB hard-drives.  Connectivity includes WiFi 802.11n and 10/100 ethernet across the board, with the top-spec models getting Bluetooth too; there's also an offset 1.3-megapixel webcam.  Glancing at the VGA port tells us that the N1200 Series is certainly thicker than something like Sony's VAIO X ultraportable, but then again Sony wouldn't like you calling that a netbook so we suppose Averatec get away with their claims.
All but the base model run Windows 7 (the entry-level machine gets Windows XP) and the standard 3-cell battery is good for just 3hrs of use; you'll have to splash out on the top model with its 6-cell pack if you want to get Averatec's quoted 6hrs of runtime.  Prices range from $329.99 to $379.99 and you can find full details in the gallery below.
Press Release:
Averatec Introduces Thinnest, Lightest 10-inch Netbook on the Market

Extended Battery Models Offer Up to Six Hours Battery Life

SANTA ANA, Calif. –(Business Wire)– Mar 02, 2010 TriGem USA today announced the Averatec N1200 Series netbook, the thinnest, lightest 10.1-inch netbook on the market today. The netbook weighs in at 2.2 pounds, measures less than one-inch thick, and offers up to six hours of battery life with the extended battery model. The N1200 will be offered in different models to match a customer's computing needs and budget requirements, with prices ranging from $329 to $379.

Three models will be offered and feature various configurations based on either the Windows XP Home or Windows 7 Starter operating systems. Extended battery models will also be available to increase battery performance from three to six hours.

To achieve this design, the engineering team at TriGem incorporated materials and components typically found on more expensive ultra-slim notebooks. Cutting-edge technologies such as ultra-slim LED LCDs along with super-slim 7mm hard drives are some of the key components which enable the N1200 Series netbook to be less than one-inch thick. Magnesium-alloy casing and the use of lithium polymer battery cells help to keep the weight down to 2.2 pounds, making it the lightest in its class.

"To build a leading-class netbook, you need to think about how it should be built," said Bob Davidson, TriGem USA senior vice president. "The lines between low-cost netbooks and ultra-portable notebooks are becoming blurred and consumers are no longer satisfied with mere compact clamshell-shaped netbooks. They want all the premium styling and features found in ultra-portable notebooks but at much more affordable prices."

The new Averatec N1200 Series netbook features a 1.66GHz Intel Atom N450 processor and operating system options for either Microsoft Windows XP Home or Windows 7 Starter. For videoconferencing and video Web chat, the netbook includes a 1.3-megapixel webcam. Storage options include 160GB and 250GB hard drives and the N1200 comes standard with 1GB DDR2 memory which is expandable to 2GB of total system memory.

The Averatec N1200 Series netbook is available for purchase this month at retail partners such as BestBuy.com, TigerDirect.com and OfficeMax.com.

TriGem's products are backed by a one-year limited warranty and one-year of U.S.-based technical support available Monday through Friday, 8 a.m. to 5 p.m. Pacific Time.