August 9th Acer Stream launch official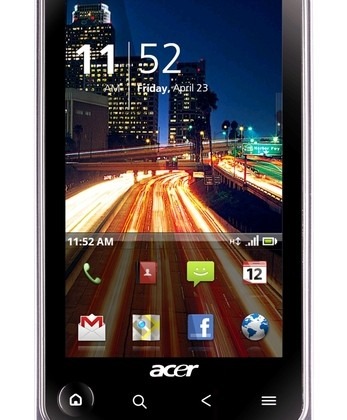 Acer's Stream Android 2.1 smartphone has just got an official UK launch date, though it's a little later than the previous August 3rd release tipped.  According to the press release, Expansys will be exclusively offering the Stream – complete with a 3.7-inch AMOLED WVGA touchscreen, 1GHz Snapdragon CPU and 5-megapixel camera – from August 9th, priced at £399 ($615), though the retailer's own product page is currently showing August 7th as the due-date.
The Stream has a HDMI output, 720p HD video capture, Bluetooth 3.0 and WiFi b/g/n, along with GPS, UPnP and DLNA compliance.  Memory includes 512MB of RAM and 2GB of flash storage, together with a microSD card slot, and Acer has slapped on their own custom UI.
[via Android Community]
Press Release:
Acer Stream: THE PERFECT ENTERTAINMENT SMARTPHONE

London, 26th July 2010: Acer Stream is a high-end multimedia smartphone, optimized for watching movies, listening to music and enjoying web browsing – perfect for most demanding users who want the best in entertainment.

Elegant and minimalist in design, Acer Stream is made from highly resistant materials and offers truly outstanding technical features, all in just 11.2 mm, ensuring users a unique, unrepeatable experience, due to the following:

Superb display quality: the touch screen with AMOLED technology boasts 1.67 million exceptionally bright colors, through a generous 3.7" WVGA display. Furthermore, its incredible contrast (superior 2000:1) makes for clear images and perfect legibility in any environment and light condition. Moreover, this type of display consumes less energy to help increase battery life.

Ultrafast connectivity 3G+ for streaming: HSDPA 7.2 Mbps in download, Bluetooth and WiFi n, enabling faster transmission of multimedia contents than ever!

Power and performance: the Qualcomm Snapdragon 1GHz processor, with its 512 MB RAM, makes Acer Stream one of the fastest and most reactive phones on the market. The operating system behind Stream is Android version 2.1, better known as Éclair.

Unique and high-quality multimedia features, enabling the recording of HD videos up to 720p. Listening to your favorite music or the radio with RDS has never been so pleasant; enjoy the Dolby Mobile quality, with powerful bass and crystal-clear clarity for an unparalleled purity of sound. UPnP technology enables sharing contents with other devices. Furthermore, a 5MP photocamera and integrated GPS system allow photos and videos to be geotagged. Last but not least, you can connect the Acer Stream to your home TV with HDMI port and watch a movie on a larger screen.

Extensive memory! 2GB of internal Flash memory are ideal for downloading a lot of applications and 3D games, while an 8GB memory card as free bundle and a micro-SD card slot support up to 32GB enable users to avail of their favorite multimedia contents at all times.

A completely brand new user interface focalized on what is essential to users and able to guarantee a simple and quick access to all the applications. The new Acer user interface will wrap the user up giving pure pleasure in using the phone and enjoying the discovery of all the stunning things he can do with his Acer Stream!

Main benefits:

_Read information straight from the lock screen's widget;

_Quickly start favorite applications in one touch;

_Easily switch applications with the History panel;

_Customize the phone according to specific needs;

_Enjoy smooth animations and fine graphics.

Coupled with a three types of predictive keyboards, a smart dialer and a redesigned contacts list, the Acer user interface makes the use of smartphone an efficient and delightful experience.

Social and entertaining: All the most popular applications are pre-installed: Acer Spinlets free streaming service to browse and listen to songs from major music labels and instantly post what you find to your favorite Social Networking sites, nemo Player to enjoy multimedia content to the fullest, Acer urFooz to create your virtual "look-a-like", add your profile and bookmarks and post it to your social networks, Facebook™ and Twidroid perfectly integrated in the phone address.

Acer Stream, a concentration of fun and entertainment! Open your eyes and start enjoying yourself with the best entertainment smartphone on the market.

The Acer Stream will be available as of the 9th August exclusively from online retailer eXpansys for an RRP of £399 Inc Vat.