Audio-Technica ATH-EQ700 retractable earphones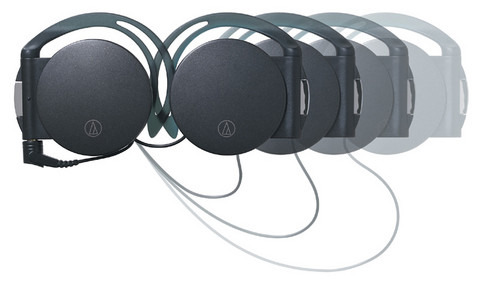 Audio-Technica Japan have unveiled their latest headphones, the ATH-EQ700, which pack retractable cables to avoid in-bag tangling. With an adjustable over-ear clip and positionable driver angles to suit different ear shapes, they have a frequency range of 14 – 24,000Hz and 22 ohms impedance. Of course the clever part is the cabling: the cord between the two earphones can extend to up to 50cm, while the main cable can pull out to 1m.
Both retract at the push of a button, meaning there's no chance of them getting knotted or, more importantly, pinched or even cut by anything else in your pocket or bag. The gold-plated 3.5mm jack clips into a slot in the left earbud to keep things tidy. Despite all the extra winding mechanism, the ATH-EQ700 set only weigh 29g.
In Japan they're priced at 3,150 yen ($30) but so far I've only been able to find them for sale in the US from AudioCubes, who have them for $49.99. Six colors are available: silver, red, black, blue, white and brown. They're available now.

[via acquire]