Audi RS 3 Sedan, customer race car break cover in Paris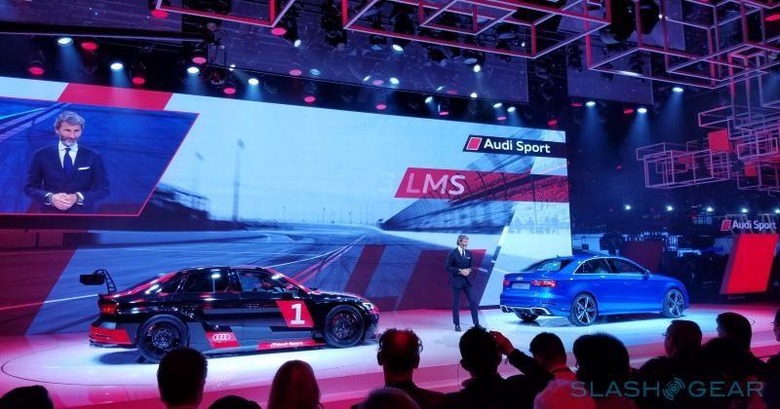 Hot on the heels of the 2018 Audi Q5 unveiled at the Paris Motor Show are two new Audi RS models. Sticking true to their "RS" brand, the two have high performance within their cross hairs. One is even an honest to goodness race car. The Audi RS 3 this year, however, is stirring things up a bit by introducing the first Audi compact sedan to bear the "Rennsport" moniker. Truly more RS than its A3 sedan predecessor, the Audi RS 3 Sedan oozes performance both without and within, boasting of no less than 400 horsepower.
The Audi RS 3 Sedan's raw power is provided by a new 2.5 TFSI five-cylinder engine, claimed to be the most powerful of its kind in the market. Inside this compact farm, it can take the RS 3 Sedan from zero 100 km/h in just 4.1 seconds. Top speeds reach 250 km/h but, upon request, Audi is willing to top that off to 280 km/h easily, as the speed is actually only electronically capped. This power is managed by a 7-speed dual clutch transmission carried over to the quattro all-wheel drive.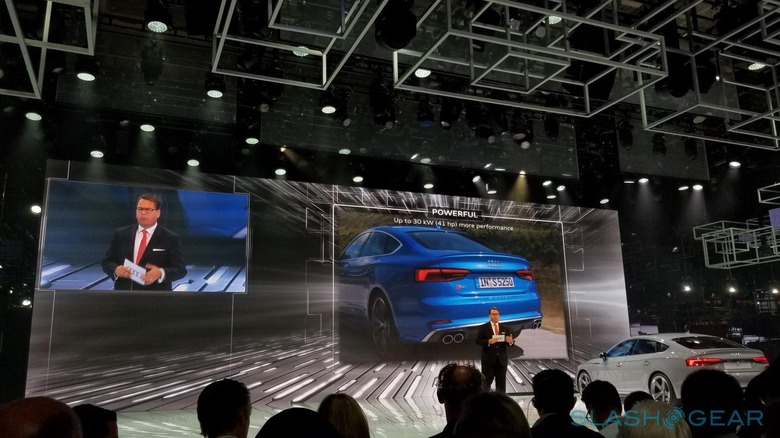 The RS 3 Sedan definitely looks its part as well, with a frame that is 20 mm wider than its A3 predecessor. It bears all the hallmarks of an RS line, including the quattro logo at the bottom of its three-dimensional honeycomb grille. A blade across the width of the facade is flanked by side air inlets, forming funnels for better aerodynamics. The sedan even features a fixed spoiler lip for both looks and improved airflow. Inside, the R3 Sedan features a darker tone more associated with race cars, which is beautifully contrasted by illuminated door sills.
Of course, the Audi RS 3 Sedan also boasts of the latest in car technologies and smartphone integration. A 7-inch electrically extending MMI is standard on all models, offering a 12.3-inch optional virtual cockpit for those who want more. The main control interface is Audi's unique rotary push button located on the central tunnel. The sedan also features its own LTE module and a factory-installed SIM to connect the car to the Internet, giving access to apps like Google Earth and Street View as well as information for weather, traffic, and the like. A free Audi MMI connect app is also available to transmit data from smartphone to car, including calendars, destination, and music.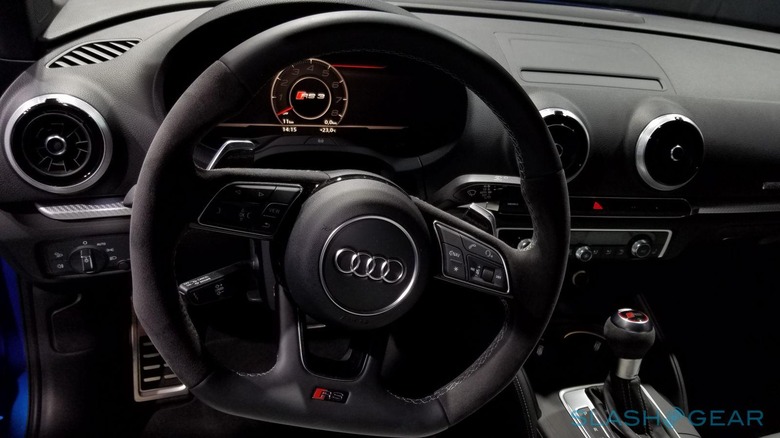 Like any modern car, the RS 3 Sedan is equipped with driver assistance technologies. New to this model are Traffic Jam Assist, which takes over the driving in slow-moving traffic, Emergency Assist, which automatically stops the car in emergencies, and Cross Traffic Assist, which looks out for crossing vehicles when going out of a parking space.
Audi also unveiled a racing version in the form of the Audi RS 3 LMS, also developed by Audi Sport, this model is designed for the still young TCR category. Sporting a four-cylinder 2.0 liter TFSI engine, this customer racing trip boasts of 330 hp and an acceleration of 0 to 100 km/h in 4.5 seconds, with max speeds of 240 km/h. The model includes a FIA-compliant safety package, including safety tank, racing safety cell, PS3 safety seat, safety nets, and roof rescue hatch.
The Audi RS 3 LMS will become available to TCR customers starting December for 129,000 EUR ($144,700). The Audi RS 3 Sedan, on the other hand, launches in China and the US in summer next year.