Audi Nanuk Quattro Concept Sports Car Introducd At IAA Car Show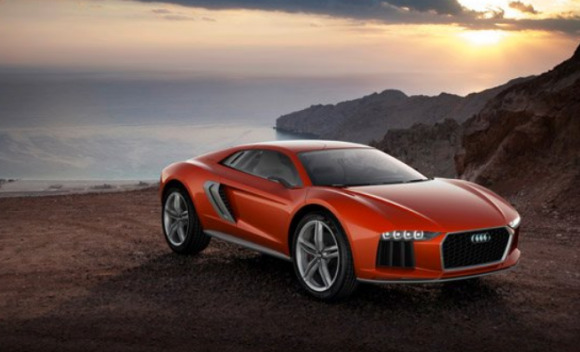 At the IAA car show in Frankfurt am Main, Audi has shown off its nanuk quattro concept sports car with a V10 TDI engine. This concept is being hailed as a concept crossover combination of the Audi quattro with the performance dynamics of a sports car, and was designed with collaboration from Italdesign Giugiaro designers.
The Audi nanuk quattro is a two-seat sports car featuring a 5.0-liter diesel engine offering 544 horsepower and 737.56 lb-ft of torque. For diverting the torque to a special quattro drive train, Audi has positioned a seven-speed S tronic behind the engine. All of this culminates in a 0 to 100 km/hr speed of 3.8 seconds.
Despite the numbers, the nanuk quattro has an average mileage rating of 30.16 US MPG, something managed via "innovative thermal management" consisting of cooling loops and what Audi says is a steplessly regulated oil pump. Overall, the crossover concept weighs in at 1900 kilograms / 4188.78 pounds and tops out at just under 190 MPH.
Among its features, the Audi nanuk quattro allows the driver to control the vehicle's ground clearance to three different levels, taking it to the normal level, to 1.18-inches under that level, or 1.57-inches above that height. This is achieved via adaptive air suspension, something that also works to keep the car level using both predictive route navigational information and the driving speed.
Likewise, to increase the agility of the car, the nanuk quattro turns the rear wheels slightly (up to 9 degrees) during low speed and moderate speed turns to decrease the turning radius. At higher speeds, the rear wheels turn up to 2.5 degrees to extend the wheelbase for increased stability.
SOURCE: Audi