Audi made a 600HP 80's-inspired TT for SEMA 2017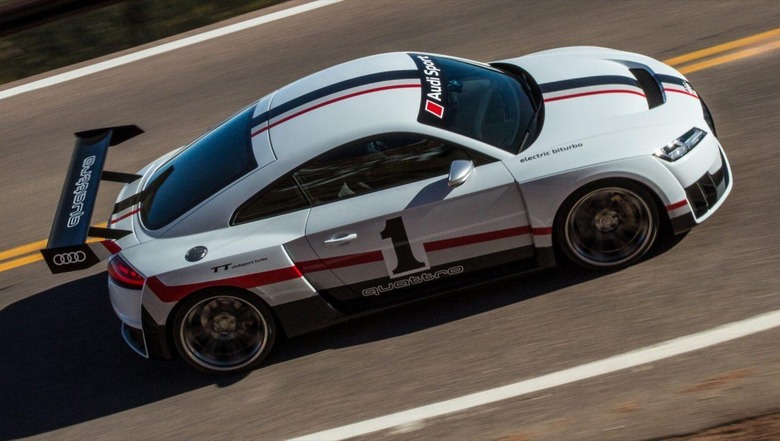 SEMA 2017 is upon us, and while the annual car tuning show may be best known for big wheels and go-faster stripes, Audi is bringing along something even the most sensible auto-fan can appreciate. The Audi TT clubsport turbo concept is the German automaker's latest folly, a performance coupe inspired by the Audi 90 IMSA GTO race car which dominated the late 1980s.
Starting with a regular Audi TT, the engineers gave it a visual makeover in line with the 80s racer. That meant new, angular fenders that Audi says are intended to emphasize the quattro all-wheel drive. They also give it a much beefier stance, widening the normal car by a hefty 5.5-inches.
On the back, the TT's normal wing is replaced with a far bigger version. It's made from carbon fiber-reinforced polymer, and is manually-adjustable so that downforce can be tinkered with according to the track conditions.
Happily, it's not all show and no go. Under the hood there's a 2.5-liter TFSI engine; the five cylinders of that are good for a whopping 600 horsepower, courtesy of an electronically-assisted turbocharger. Audi says that it'll go from 0-61.1 mph in 3.6 seconds, which is legitimate supercar speed.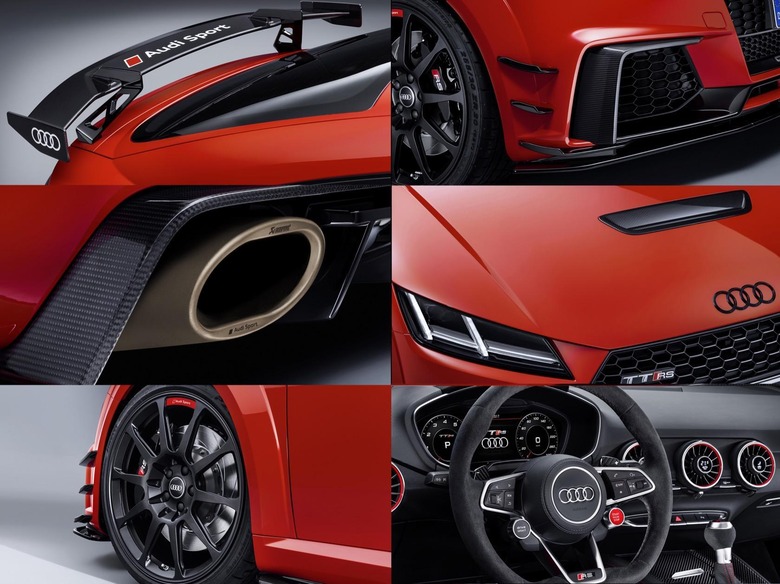 Sadly there's no suggestion of a production version of the car, which means that TT enthusiasts will have to sate their upgrade urges in other ways. Audi will have one such option for 2018, with the launch of Audi Sport Performance Parts. They'll be offered for both the TT RS and the R8.
MORE 2018 Audi TT RS first-drive
Audi is splitting the range into four areas: suspension, exhaust system, exterior, and interior. Final specifications, the full portfolio and, most importantly, pricing will have to wait until the parts show up in Audi dealerships next year. However, we do have an inkling of what's to come, courtesy of an Audi TT RS show car that's been fitted with some from the new line-up.
For instance, there's two-way adjustable coilover suspension and additional chassis bracing, along with improvements to the brake system. The standard wheels have been swapped for 20-inch lightweight versions, shod with high-performance sport tires. Audi says the bodykit tweaks are the result of actual aero testing, not just what looks good, and are responsible both for extra downforce and brake cooling.
Inside, meanwhile, there's a new performance steering wheel that has carbon shift paddles. Giving the soundtrack is a titanium exhaust system, which was made with the help of specialists Akrapovic d.d.