Audi Lunar Quattro moon rover first look: XPRIZE-bound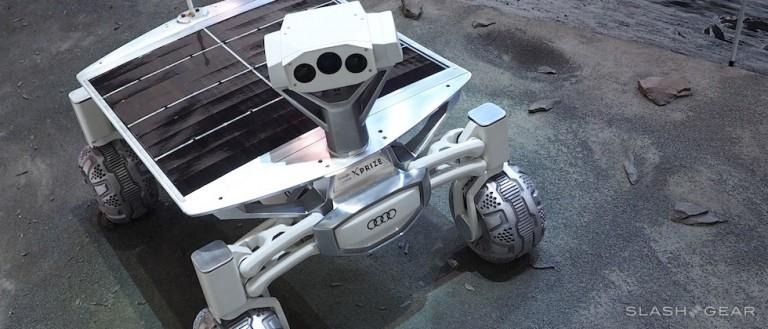 Easily the tiniest of the vehicles we've seen so far at the Detroit Auto show is here in the Audi Lunar Quattro. This vehicle is meant to head to the moon as part of Google's Lunar XPRIZE competition, aiming to launch a vehicle that'll be placed on the moon and explore a space of at least 500 meters. Equipped with an HD camera array, this tiny vehicle will send high-definition video and high-definition photos aplenty from our moon back to the planet Earth.
Audi's biggest contribution to this project may be the lightweight nature of the beast. The wheels on this rover are made of 3D-printed aluminum, which allows them to be large, yet light. Compared to past models made by Audi, these wheels alone save the machine 200g (that's per wheel, mind you).
That much weight will add up quick, says Audi, as it'll cost 80K Euro (around $87k USD) per kilo of payload for each rover to make this mission happen.
Across the top of this vehicle is a 300-square centimeter solar panel which works to charge batteries within. Inside the rover are a set of lithium ion batteries – not entirely unlike the batteries you have in your smartphone right now.
NASA Space Exploration Vehicle ride-along in VR
The 360-degree turn ability of each wheel is similar to what we experienced with the Mars Rover some weeks ago at NASA headquarters at the Johnson Space Center. Maximization of all movements are imperative when it comes to remote controlling a vehicle on a moon thousands of miles away.
In the following video you'll see Audi discussing their contributions to the Google Lunar X-Prize. This video shows what challenges Audi will face once they've reached the surface of our moon.
There you'll see the first (animated) look we had at Audi's moon efforts. Innards and details are made entirely simple to explore.
Photography by Chris Davies.