Audi e-tron Scooter blends skateboard and folding scooter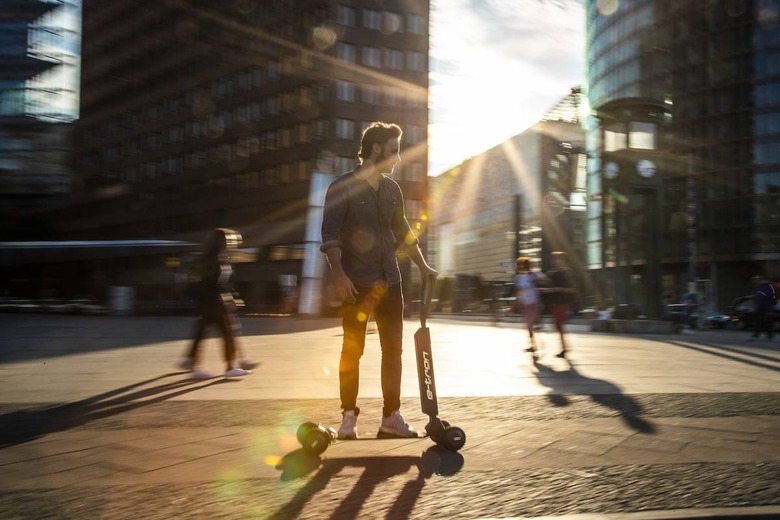 Audi's e-tron range of EVs is getting a new addition, though the latest member of the line-up is a whole lot smaller than you might expect from the automaker. The Audi e-tron Scooter isn't going to get you as much range as, say, the 2019 e-tron Quattro SUV, but it's designed to tackle the last mile of zero-emission journeys.
Unlike most electric scooters, Audi has given its e-tron Scooter four wheels rather than two. It should help with stability, but it also allows Audi to implement a new steering system.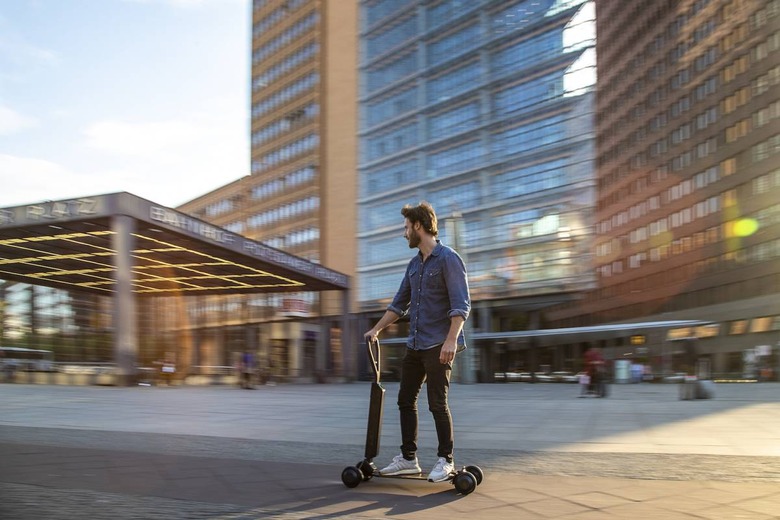 There's a handlebar, as you'd expect, but riders actually steer by shifting their weight from side to side. The tilting allows for tighter turns, Audi claims, not to mention a more engaging feel. Meanwhile, it leaves a hand free to hold something or give signals.
The battery and the electronics are integrated into the steering handle, which also has a display to show the remaining range. A twist-grip handles both acceleration and regenerative braking, with the scooter recovering energy while slowing to feed back into the batteries, just as its e-tron cars do. Audi also fits a hydraulic foot brake to act as a backup.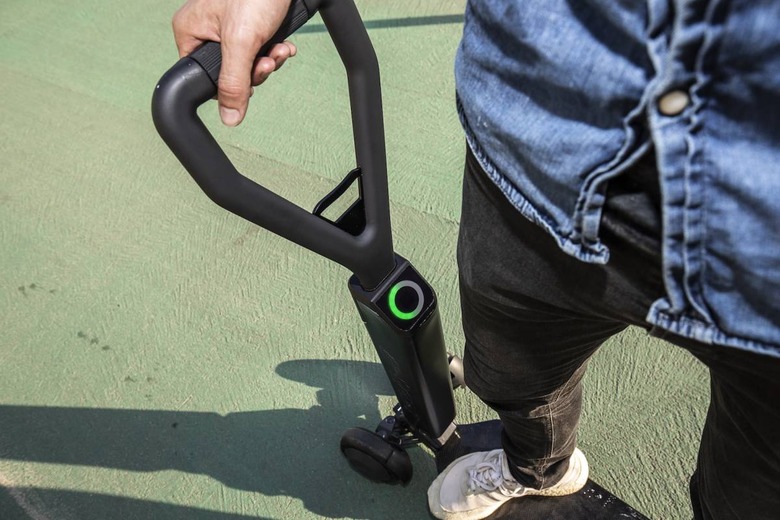 Range is estimated at 12.5 miles, and there's an LED headlight and rear light, daytime running lights for increased visibility, and a brake light. Bluetooth is included, synchronizing with a smartphone to act both as an anti-theft alarm and to allow customization of the e-tron Scooter's ride characteristics.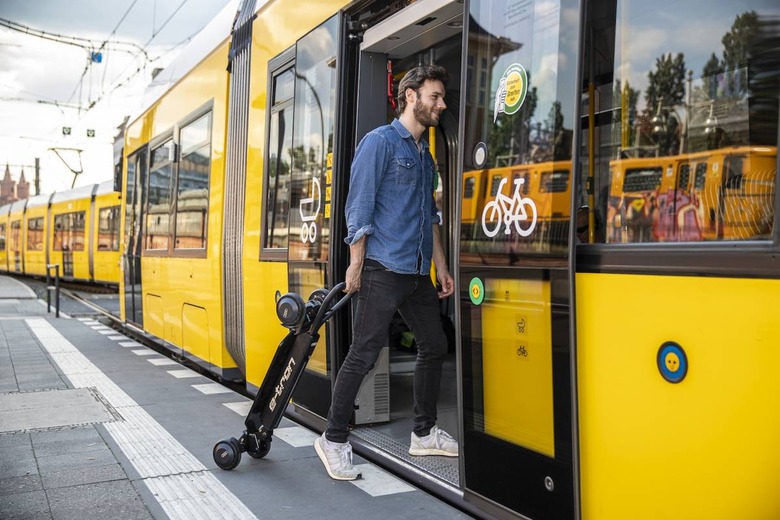 The whole thing tips the scales at 26 pounds, and the e-tron Scooter can be folded up to be pulled like a trolley or stored in the trunk of a car. Indeed, that's one of the possibilities for commercialization that Audi is considering. e-tron vehicle buyers might be offered the scooter as well, charging it via a dedicated outlet in the trunk so that it's always ready to go.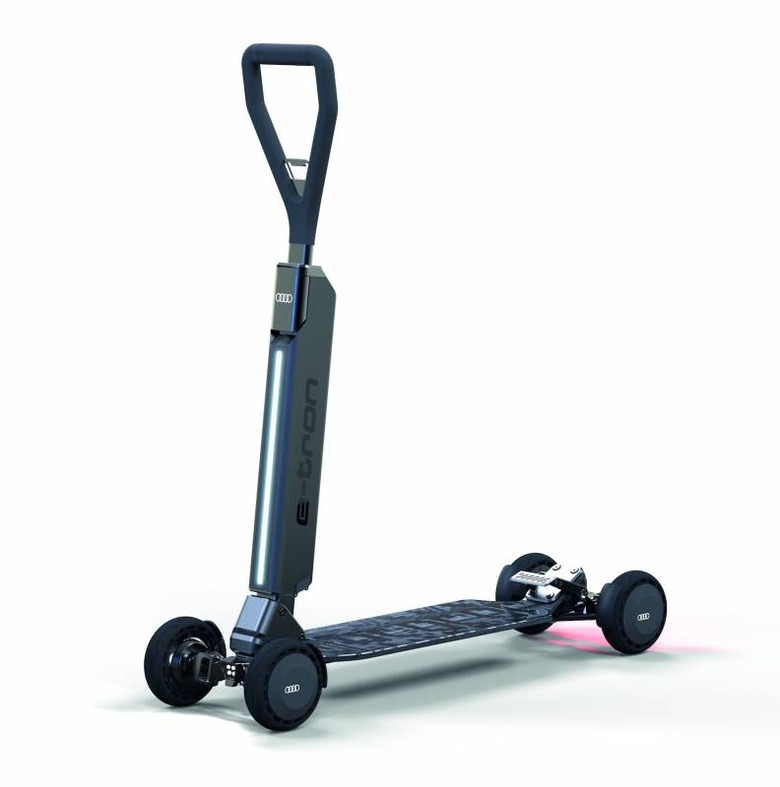 Other possibilities include a fleet deployment, with Audi envisaging a host of the e-tron Scooters being used in, say, residential communities for traveling around. Private sales, too, are planned.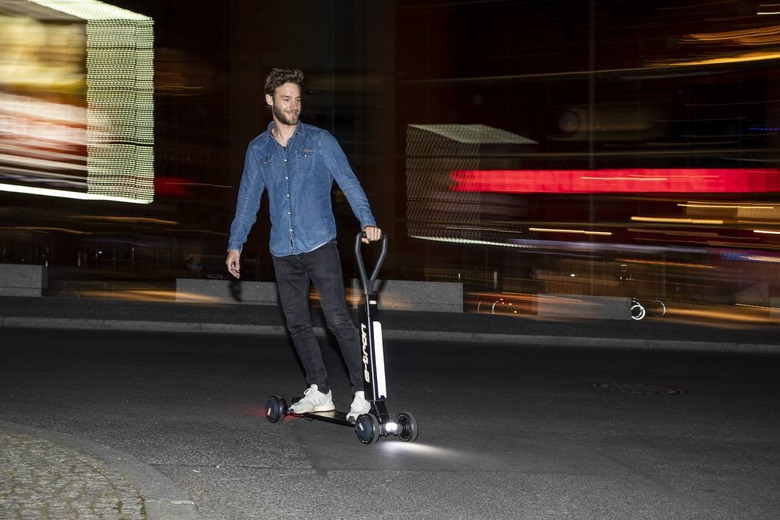 That won't happen until the end of 2020, however, when Audi says it expects to kick off production. The e-tron Scooter is expected to be around 2,000 euros, or $2,240, and offered in gray or black, with either a wood or carbon deck.