Audi connect outlined with LTE speeds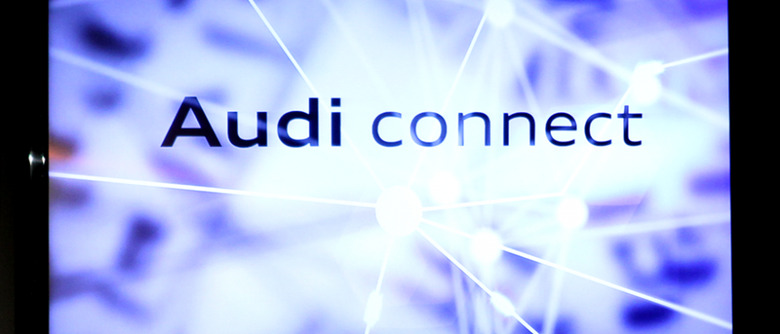 Audi's Toni Melfi, Michael Dick, and Ricky Hudi sat at a table on stage at CES 2012's Audi keynote speech, speaking on how they were the first major car manufacturer to present a keynote at CES and how they're set to adopt benchmarks of consumer electronics here in 2012. Audi e-tron, ultra, mobility, and connect were outlined to show how they will be set for the future of the modern automobile industry.
What Audi has at this show, they say, is more representatives for electronics than at any other car show they've been to. The complete interior of their vehicles, they're showing, is connected to the world around it. Through no less than LTE connectivity, Audi will be connecting to the mobile world around them. Fantastic functionality will now be coming in faster than ever to users rolling out with Audi drivers.
NOTE: those of you with extensive knowledge of Audi's systems will recognize that several of these features are available and have been available since late 2011 – what this presentation encapsulated was the full package as it moves on in to 2012, complete with LTE and NVIDIA.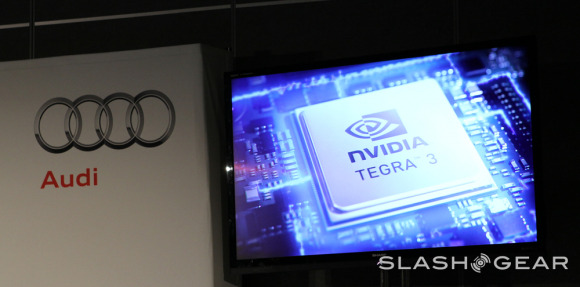 Audi connect will also be working with a phone box in the center console of their future cars which will able to connect to your outside antenna for better phone connections, plug in through USB, and of course, safe storage. They showed a brand new MMI display in an ultra-slim form factor, all of this connected with an NVIDIA Tegra 3 quad-core processor for ultra-quick processing. This display will be working with 3D graphics and will have an ultra-intuitive user interface. This display will also show Google Earth right out of the box, with full photo-realistic picture down to 30 meters. Photorealistic scenery shows you exactly where you are at all times, courtesy of Google.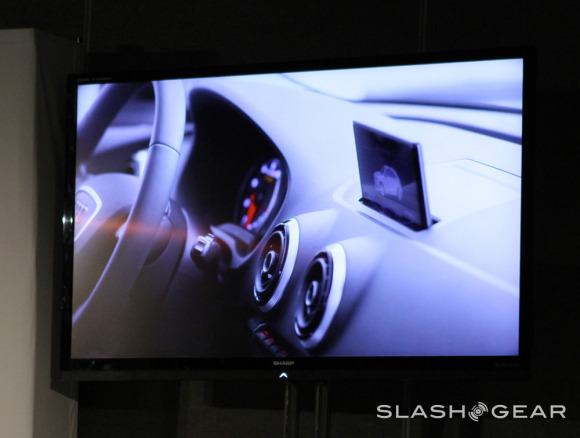 Audi online traffic information will be integrated in future vehicles, it working with Google again to bring you traffic information in color-coded roads to show you where to drive if you want to get to where you're going quick. Voice Control is already integrated as well, using Google Voice to make it happen – you'll be able to ask for what you want, a voice-activated POI search, now complete with the new display and the much more complete Google Earth integration.
An upgrade to the Audi A3 will be their rotary touchpad which allows gestures and touch-sensitivity good enough to write letters which are recognized by the integrated NVIDIA-powered computer. In the future, Audi notes that they'll have head-up technology which allows for projected images above your dashboard. Mobile Computing is at the center of this whole project, NVIDIA showing off their Tegra 3 quad-core processor working with Audi's MMX port system at the same time consumer electronics have the chip – this type of situation a first and showing Audi to be a forward-thinking group in the world of consumer electronics without a doubt.
"We don't talk about autonomous driving, we talk about pilot driving." – Ricky Hudi, Audi
In that Audi envisions a world where you are the pilot and not the robot using the car just for transport, they've shown that they intent to differentiate themselves by concentrating their efforts specifically on the driver more than anything else. Of course they'll continue to create fantastic vehicles that have energy invested inside and out, but connecting to the consumer electronics world through the mobile environment here makes them set for the future.