Audi announces AMOLED rear-view display for R8 e-tron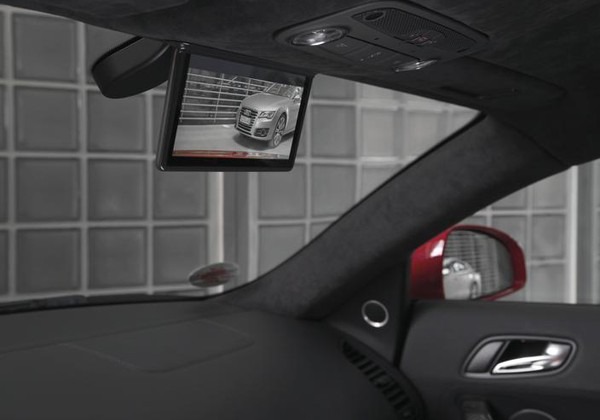 Audi has announced that its upcoming R8 e-tron will be featuring a digital AMOLED rear-view "mirror" when it arrives later this year. This isn't the first time Audi has implemented such a display in one of its cars, as we saw this same technology in its Audi R18 race car. This means that conventional rear-view mirrors are out – at least in the R8 e-tron – and are being replaced with a 7.7-inch AMOLED screen.
To get a little more specific, Audi says this is a color AMOLED screen that displays the feed from a small and very lightweight camera. The camera is placed in an "aerodynamically optimized housing" that can be heated when it gets cold outside, so you don't need to worry about your rear-view video feed going dark when winter arrives. Audi says that the AMOLED screen will be provided by Samsung.
Of course, there are other benefits to having a camera and screen setup such as this, with Audi saying that the combination helps reduce glare from the headlights of cars behind you. The AMOLED screen doesn't require a back light, as it is "self-illuminating at a low voltage." Audi also promises that the screen will provide a "high-contrast, brilliant image" of what's going on behind you, and even though the camera lens is only a few millimeters in diameter, it can provide a wider viewing range than conventional rear-view mirrors.
Audi said in its announcement that it is also looking into "incorporating additional information" on the screen at some point in the future, so when the Audi R8 e-tron first becomes available, it sounds like it will be lacking that extra functionality. It's a excellent feature to be sure, but then again, we've come to expect excellent features from Audi. The Audi R8 e-tron is scheduled to roll off the line at the end of the year, so stay tuned for more details.