AT&T yank Nokia Mural over 3G blunder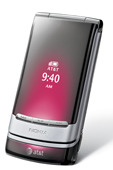 Nokia's Mural only landed on AT&T last week, and already its been pulled from shelves.  The problem, according to a leaked internal memo, is that Nokia "inadvertently turned off" its 3G support during production, meaning that all of the devices – including those sold – now need to be reflashed with new firmware.
Unfortunately the Mural 6750 doesn't support OTA firmware updates, so each handset has to be returned to AT&T to be loaded with the new software.  Until that's completed, owners can only use 2G and there'll be no Mural handsets on AT&T store shelves.
The Nokia Mural was priced at $49.99 (after a $50 mail-in rebate) and promised a 2-megapixel camera, external music controls and a hidden LCD outer display.  There were no shortage of carrier-loaded features, either, including AT&T Mobile Music, AT&T Navigator, and AT&T Video Share, none of which, we imagine, would be much fun over a 2G network.
[via IntoMobile]