AT&T Will Revoke Unlimited Data Plans For Users Of Unauthorized Tethering Apps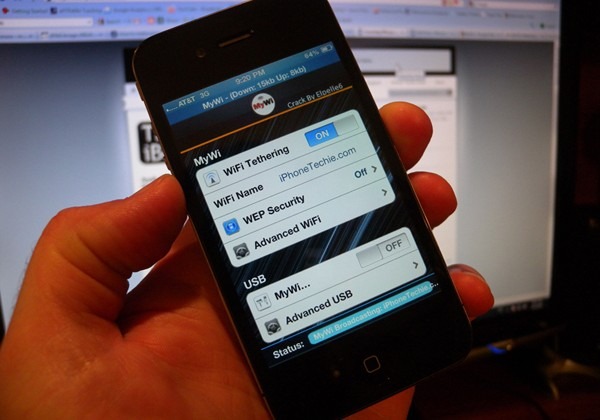 The days of using your jailbroken iPhone as a hotspot for free tethering without consequence will soon end. AT&T has been sending out warnings to customers about unauthorized tethering, threatening to revoke unlimited data plans for those in violation.
Back in April, AT&T had already begun messaging customers regarding unofficial tethering, but had only warned of an extra $25 fee. Now, the carrier is informing customers that if they are using unauthorized tethering apps that their unlimited data plans will be revoked and replaced with a 2GB tethering plan that costs $45 a month.
Major data congestion is anticipated for the months of September and October, when several new data-hungry smartphones will be introduced, including the rumored iPhone 5. AT&T has already announced data throttling for unlimited data plan customers, so it's no surprise that the new consequence for unauthorized tethering is to eliminate these plans for those that are still grandfathered in.
One customer that received a warning from AT&T sent the below message to 9to5 Mac:
I was just informed that as of Thursday August 11th 2011, if you use MyWi or any tethering on the phone or using the phone as a modem, AT&T will automatically change ur unlimited plan to a 2Gb tethering plan for 45 dollars without the customers consent. This is for those who received emails or texts about the use of tethering without an AT&T tethering plan.
AT&T has since responded with the following statement:
Earlier this year, we began sending letters, emails, and text messages to a small number of smartphone customers who use their devices for tethering but aren't on our required tethering plan. Our goal here is fairness for all of our customers. (This impacts a only small percentage of our smartphone customer base.)

The letters outline three choices:

1) Stop tethering and keep their current plan (including grandfathered unlimited plan)

2) Proactively call AT&T or visit our stores and move to the required tethering plan

3) Do nothing and we'll go ahead and add the tethering plan on their behalf — after the dated noted in their customer notification
[via 9to5 Mac]