AT&T unlock 3G VoIP on iPhone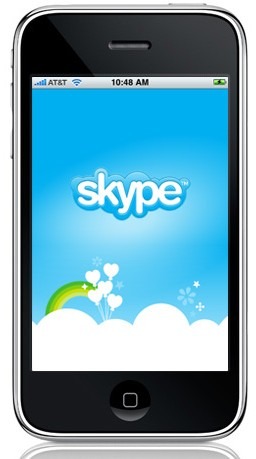 AT&T has come in for no small amount of criticism for its network's ability to cope with avid iPhoners, both in dropped calls and tardy data, so we're not sure the carrier's latest news – that it has opened up VoIP support for the iPhone over 3G connections – is 100-percent good.  Pushing network capacity to one side for the moment, the announcement means that – assuming Apple approves their software applications – companies like Skype will be free to enable 3G VoIP apps on the iPhone.
What's unclear from the press release (which you can read after the cut) is whether VoIP use will be included in the standard "unlimited" data package iPhone buyers sign up to.  Given one of AT&T's arguments in the past has been that VoIP consumes significantly more network capacity and data than regular use, it's possible that they could look to squeeze more money out of subscribers for its use.
AT&T claim to have "informed Apple and the FCC" of its decision, which suggests that it made the policy change after coming under increased examination for net-neutrality issues.  No word on when we could see the first 3G-enabled VoIP apps arrive, but we bet developers are already working on their updates.
Press Release:
AT&T Extends VOIP to 3G Network for iPhone

AT&T* today announced it has taken the steps necessary so that Apple can enable VoIP applications on iPhone to run on AT&T's wireless network. Previously, VoIP applications on iPhone were enabled for Wi-Fi connectivity. For some time, AT&T has offered a variety of other wireless devices that enable VoIP applications on 3G, 2G and Wi-Fi networks. AT&T this afternoon informed Apple Inc. and the FCC of its decision.

In late summer, AT&T said it was taking a fresh look at VoIP capabilities on iPhone for use on AT&T's 3G network, consistent with its regular review of device features and capabilities to ensure attractive options for consumers.

"iPhone is an innovative device that dramatically changed the game in wireless when it was introduced just two years ago," said Ralph de la Vega, president and CEO, AT&T Mobility & Consumer Markets. "Today's decision was made after evaluating our customers' expectations and use of the device compared to dozens of others we offer."

AT&T allows customers to download or launch on their wireless devices a multitude of compatible applications directly from any lawful Internet website. Additionally, because AT&T uses GSM technology, the most pervasive and open wireless technology platform in the world, we support customers using any GSM phone that works on AT&T's frequencies.