AT&T Unite 4G LTE mobile hotspot keeps the touchscreen flame strong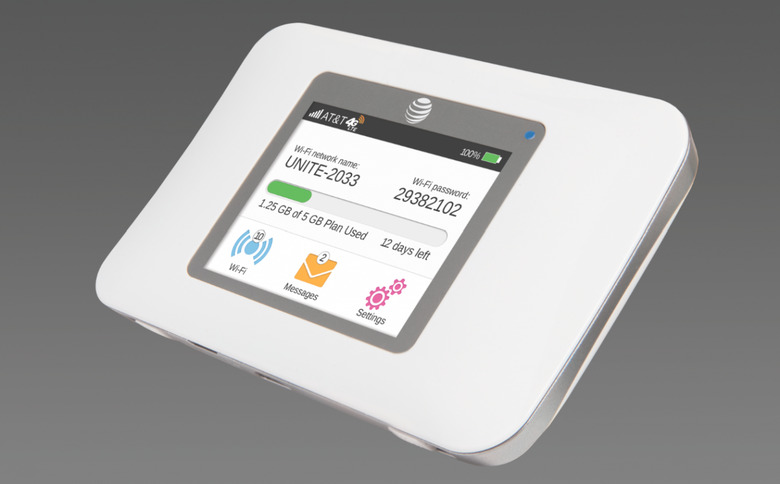 It's time once again to bust out with Sierra Wireless as they manufacture another mobile hotspot with a touchscreen, again this time for AT&T's 4G LTE data network. This machine works with a 2.4-inch touchscreen display and, like the Mifi Liberate we just reviewed, it can connect to up to 10 wi-fi-loving devices at once. This machine works with an on-screen meter so you can see how much data you're using at a given time and makes the whole process as user-friendly as possible.
You'll be able to add this little monster to your Mobile Share plan for $20 USD a month and will be able to use your shared "bucket" of data with your family across their smartphones and tablets on AT&T as well. You can manage each connected device via the touchscreen interface on the Unite and are able to block unwanted devices from joining (and there's password protection in place as well, of course, if you just want to skip that step altogether.)
This device takes the greatness of the Liberate and changes it up a bit with a slightly more light-hearted design. For those of you that want white or pearlescent devices in your pockets only, at all times, the Unite will be the winner for your fashionable heart. This machine has a slightly different user interface than the Liberate works with, here simplifying the way you're tapping with the slightly larger display size – this allowing more finger-sized buttons to fit, of course.
This device will be available soon from your local AT&T store – check it out and let us know how it goes! Make sure you take a peek at the Liberate as well, it being created by Novatel Wireless and coming in as a winner in our books.