AT&T U-Verse Total Home DVR gets speed boost, free films, more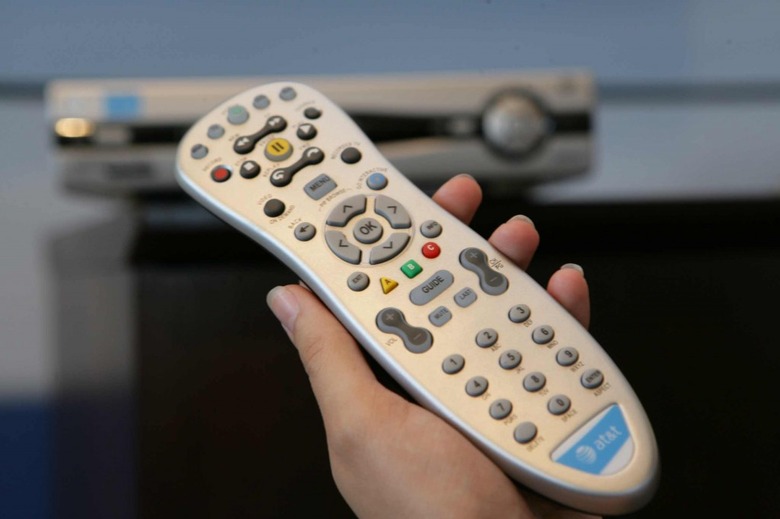 AT&T have announced a bevy of new features for their U-verse Total Home DVR system, that will begin rolling out to customers from today.  The updates include a 20-percent speed increase to Internet Max subscribers, taking their connection up to 12Mbps, plus more flexibility in scheduling recordings from any U-verse receiver or a new version of the system website.
Video demo after the cut
There's also a new On Demand Top Picks service, which works out film title recommendations based on previous viewing history.  That will roll out to Los Angeles, Cleveland, Hartford, St. Louis, Atlanta, Sacramento, San Antonio and Austin customers within the next few weeks, with the remaining U-verse subscribers getting it next year.  All users will have free, unlimited access to Starz movies throughout July.
U-verse can share recordings with up to eight TVs per receiver, record four shows simultaneously and playback four simultaneously.  Each DVR can hold up to 233 hours of standard-definition video or 65 hours of high-definition content; full comparison details with rival systems in the matrix below.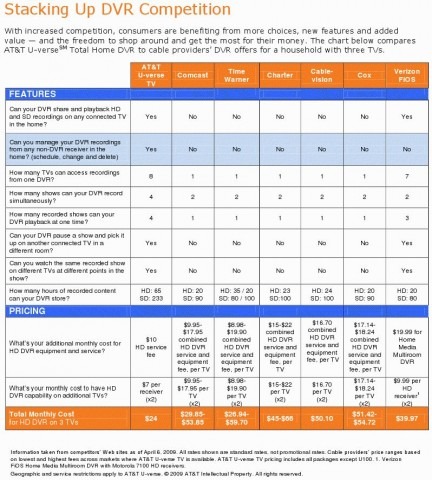 Press Release:
AT&T Rolls Out More U-verse Enhancements at No Additional Cost to Customers

Upgrades Include Exclusive Total Home DVR Feature, Broadband Speed Increase, New On Demand App and More

Since its launch three years ago, AT&T U-verseSM has continually evolved and added new features. This month, AT&T* will rollout another series of enhancements that make AT&T U-verse even better for customers. Today and over the coming weeks, AT&T U-verse will add — at no extra cost as part of customers' existing subscriptions — upgraded DVR capabilities and user interface enhancements for all customers, increased downstream speeds for AT&T U-verse High Speed Internet Max residential and business customers, and a new On Demand Top Picks application for customers in select markets.

"Turning on the TV and seeing something new is what AT&T U-verse customers have come to expect from us," said Jeff Weber, vice president of video services for AT&T Mobility and Consumer Markets. "These latest upgrades are further examples of how we're using Internet Protocol (IP) technology to give you more control and more value. With AT&T U-verse, you're getting DVR capabilities you can't find from any cable providers, exciting and useful apps, and faster broadband speeds. We're giving you an advanced entertainment experience, and this is still only the beginning."

The U-verse enhancements announced today include:

Exclusive new AT&T U-verse Total Home DVR feature. AT&T U-verse Total Home DVR capabilities will be expanded market-by-market in the upcoming weeks to add the ability to schedule and manage recordings from any U-verse receiver — a feature exclusive to AT&T among multi-room DVRs. The feature adds even more convenience and control over recorded shows by allowing customers to set or delete recordings from any room in their home, instead of from the DVR receiver room only. The enhancement follows the launch of Total Home DVR in 2008, which allows all U-verse DVR customers to watch standard and High Definition recorded shows on up to eight connected TVs in the home — all from a single DVR.

Free speed increase for AT&T U-verse Internet Max customers. All AT&T U-verse High Speed Internet Max customers have been given increased downstream speeds from up to 10 Mbps to up to 12 Mbps — a 20 percent increase in speed at no extra cost. The faster up to 12 Mbps downstream speed is available to all new and existing U-verse Internet residential and business customers who subscribe to the Max service.

New On Demand Top Picks application. U-verse TV movie buffs will also have a new way to find that perfect movie with On Demand Top Picks. The new application will enable U-verse TV customers to view On Demand recommendations based on their past video rental history and view a list of the top ten On Demand titles U-verse TV customers are renting. The app will also give customers the ability to rate a movie they have previously rented, which will be averaged into other U-verse TV customer ratings and displayed next to the title in the On Demand recommendations list. On Demand Top Picks will be available to customers in Los Angeles, Cleveland, Hartford, St. Louis, Atlanta, Sacramento, San Antonio and Austin within the next few weeks. AT&T plans to make the app available to all U-verse TV customers next year.

Web Remote Access to DVR enhancements. U-verse TV customers will soon have a new interface to schedule and manage their DVR recordings from any web-connected PC. Powered by Yahoo!, the enhanced functionality enables faster browsing of the program guide; sorting the program guide by genre, favorites or High Definition (HD) channels; easily referencing recently recorded shows and upcoming scheduled shows on a side panel; targeted searching by title, actor, and channel; and personalizing favorite channels. U-verse TV customers will also be able to utilize sub accounts — in addition to their U-verse master account login — to access this app. AT&T was one of the first providers to introduce online DVR control in November 2006, and brought three-screen DVR access to all U-verse TV customers with Mobile Remote Access to the DVR in April 2007. On average, more than 100,000 U-verse TV customers use Web Remote Access every month to schedule and manage their recordings.

U-verse TV navigation improvements. U-verse TV customers will have a more simple and streamlined way to navigate and find programming with enhancements rolling out market-by-market along with the Total Home DVR upgrade. From within the U-verse programming guide, users will be able to select Enter to pull up a panel of options to jump to another channel, time or day to find the programming you want to watch. Customers will also be able to select Enter while watching live TV to bring up a side panel that allows them to select from zoom and audio options.

Free movie month. As an added bonus, all U-verse TV customers will get even more options for their summer entertainment with unlimited access to Starz at no extra charge during July.

These upgrades are the latest examples of standard AT&T U-verse services and applications that give customers more freedom and flexibility over their entertainment experience. U-verse TV customers can also enjoy several other integrated applications, including personalized, on-screen weather, sports, traffic and stock information via AT&T U-bar; local and national weather forecasts on-demand; the ability to view personal photos on your TV that you have uploaded to flickr.com; remote access to the DVR from any web-connected PC or wireless phone; and more.

AT&T's U-verse deployment is rapidly introducing competitive choice and next-generation services to more consumers. AT&T U-verse customers enjoy quadruple-play integration, enhanced features and greater value, all made possible by IP technology. AT&T U-verse TV ranked "Highest in Residential Television Service Satisfaction in the North Central, South, and West Regions," according to the J.D. Power and Associates 2008 Residential Television Service Provider Satisfaction StudySM.

Residential and small business customers who want additional information on AT&T U-verse — or to find out if it's available in their area — can visit http://uverse.att.com.

*AT&T products and services are provided or offered by subsidiaries and affiliates of AT&T Inc. under the AT&T brand and not by AT&T Inc.