AT&T To Offer Only Unlimited Messaging Plans Starting August 21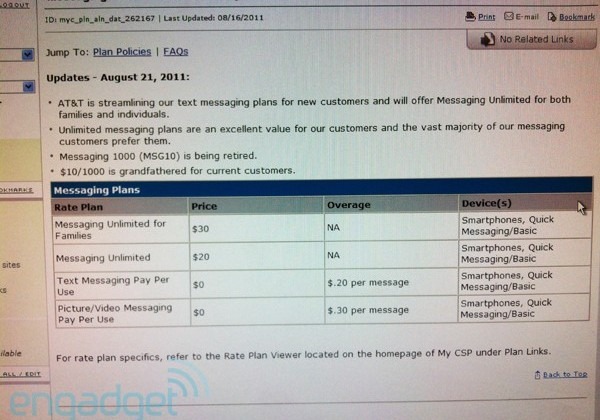 AT&T has announced that it will be streamlining its text messaging plans by keeping only the unlimited option. The 1000 messages for $10 plan will be retired starting August 21, when new customers will be presented only the options for $20 individual unlimited messaging or $30 family unlimited messaging.
Existing AT&T customers with $10 messaging plans will get grandfathered, meaning they get to keep their current plans without any change. However, new customers starting on Sunday, will no longer have a $10 for 1000 messages option, although they can still choose to pay by individual messages at a rate of $0.20 per SMS and $0.30 per MMS.
Here is the official statement from AT&T:
Starting August 21, we're streamlining our text messaging plans for new customers and will offer an unlimited plan for individuals for $20 per month and an unlimited plan for families of up to five lines for $30 per month. The vast majority of our messaging customers prefer unlimited plans and with text messaging growth stronger than ever, that number continues to climb among new customers. Existing customers don't have to change any messaging plan they have today, even when changing handsets.
Earlier this year, AT&T had already eliminated two tiers of its messaging plans including a $5 for 200 messages and a $15 for 1,500 messages, leaving only the $10 for 1000 tier, which will now be axed this Sunday. The carrier also recently confirmed data throttling for its unlimited data plans.
[via Engadget]