AT&T Sony Ericsson XPERIA X10 arrives August 15th for $130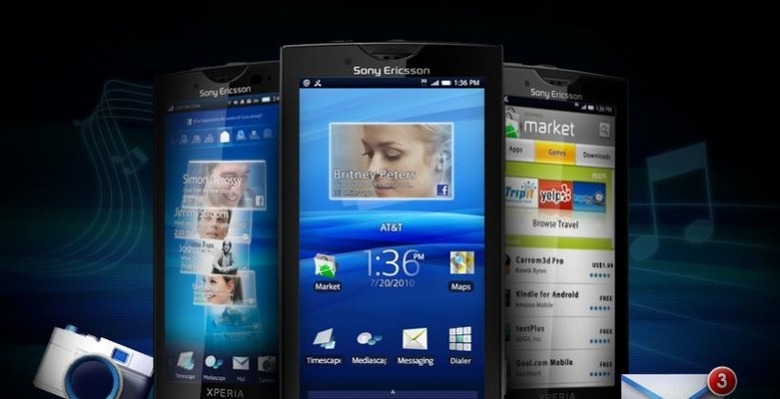 Sony Style's teaser page has hatched into the launch of the Sony Ericsson XPERIA X10, with the Android smartphone set to hit AT&T's airwaves from Sunday, August 15th.  Priced at $129.99 with a new, two-year AT&T plan, though not currently available to order online, the smartphone runs Android 1.6 with a 4-inch WVGA touchscreen, Qualcomm Snapdragon processor and an 8.1-megapixel camera with LED flash.
We reviewed the XPERIA X10 all the way back in March 2010, concluding that the hardware strengths of the handset would only be worth buying into if Sony Ericsson delivered on their software promises.  So far we're still waiting on an Android 2.x update, which isn't expected to debut until later in 2010.
Update: AT&T will be selling the XPERIA X10 direct for $149.99 with a new, two-year agreement.
Press Release:
AT&T and Sony Ericsson Announce the Xperia™ X10
Smart meets entertaining – Sony Ericsson's flagship Android smartphone offers an open and integrated world of communication, entertainment and social media
DALLAS and ATLANTA, Aug. 9 /PRNewswire-FirstCall/ — AT&T* and Sony Ericsson today announced a dynamic multimedia experience with the Android™ based Xperia™ X10, available August 15. The Xperia™ X10 introduces Sony Ericsson's unique and entertainment-driven Xperia™ platform to U.S. customers in a cutting-edge, beautiful and fun package.
The Xperia™ X10 comes fully loaded with a 4-inch crystal clear touch display, superfast 1GHz Snapdragon processor and aGPS. The smartphone also features an 8.1 megapixel camera with smile detection, face recognition, autofocus and LED flash. The device comes with 8 GB of on-board memory and a 2 GB in-box memory card, with expandable memory up to 32 GB.
Sony Ericsson's custom user experience is great for the intersection of communications and entertainment. Two signature applications, Mediascape and Timescape™, build on the Android platform to enhance the experience for users.
Mediascape on the Xperia ™ X10 gathers music, photos, videos and content from your phone's memory card and online, letting you browse, search, listen and share your media from one unified view. For example, view photos taken on the device as well as your Facebook® and Picasa™ web albums. Or, when listening to a favorite song on your phone, press Sony Ericsson's infinite button to access related content about the artist pulled from the phone's memory as well as albums, songs and video content from YouTube™ and search results from Google.
Timescape™ is a unique communication application that automatically organizes social interactions in chronological order, leaving users free to concentrate on keeping in touch on-the-go. From Facebook® and Twitter® updates to photos, emails and text messages, a scrolling menu offers easy viewing and organization of all communications. Additionally, tap the Timescape™ infinite button to bring up and view all communications from a single person in a single place.
"Sony Ericsson has created a unique choice for our smartphone customers looking for a fun and smart device," said Michael Woodward, vice president, Mobile Phone Portfolio, AT&T Mobility and Consumer Markets.
"Sony Ericsson is raising the bar for entertainment-rich phones with the launch of the Xperia ™ X10," said Paul Hamnett, senior vice president, Sony Ericsson North America. "With the convergence of our user experience platform and the Android OS, we are bringing consumers a smartphone experience that is not only exciting, but also very refined. Following the successful global launch of the Xperia™ X10, we are pleased to partner with AT&T to launch this phone in the U.S. market."
Pricing and Availability
The Sony Ericsson Xperia™ X10 smartphone will be available in black at AT&T stores, authorized retailers and www.wireless.att.com on August 15 for $149.99 after a two-year service agreement and minimum smartphone data plan.
For the complete lineup of AT&T offerings, visit www.att.com.
*AT&T products and services are provided or offered by subsidiaries and affiliates of AT&T Inc. under the AT&T brand and not by AT&T Inc.
Viewable screen display area is measured diagonally.
A portion of memory is used for data management purposes.
Data charges apply for content and updates transferred through the mobile Web.