AT&T revamps plans with "Mobile Share Family Value" to stave off T-Mo
AT&T has introduced a new group tariff, Mobile Share Value Plan, aimed at families and small businesses perhaps tempted by T-Mobile's competitive "Uncarrier" prices. Available both for new sign-ups and existing subscribers, the plan – available from today – doesn't include subsidized devices for those fresh to AT&T's network, but cuts the cost of high data allowances (for those sharing over 10GB among multiple devices) and the price of adding different lines. The carrier claims that existing families all on AT&T could save as much as $100 per month by switching over.
For two smartphones, sharing 10GB of data and unlimited talk and text, AT&T is charging $130 per month. That goes up in $15 increments per extra device added; up to ten lines can be supported in total.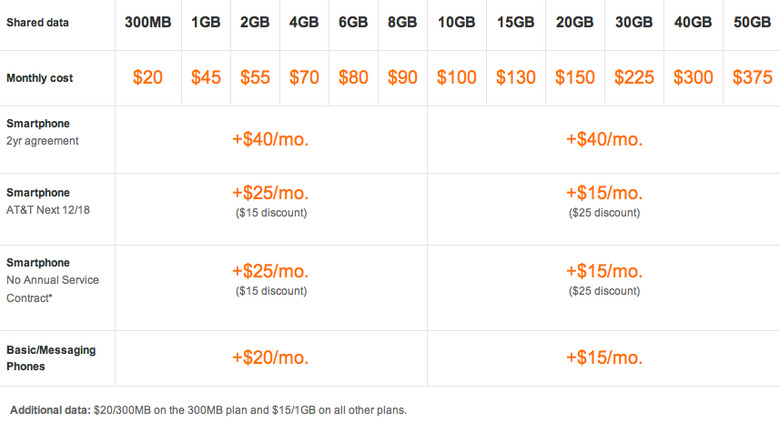 In addition, it's possible to add other devices to the plans. Laptops, mobile hotspots, USB modems, and netbooks with integrated wireless will require $20 more per month each to share the data pot, while tablets, cameras, and gaming devices will be $10 extra per month. Adding a wireless home phone to use the unlimited talk will be $20 per month.
AT&T's existing shared talk/text/data plans remain available for those using 8GB or less of data each month.

The plans make particular sense to those already owning an AT&T-compatible smartphone, or willing to pay for an unsubsidized handset separately. However, AT&T is also pushing its Next scheme which effectively sets up a standalone subsidy for a device and spreads the cost over an extended period, independent from their contract for service.
Devices like the Moto G and the Nexus 5, known for their low upfront, unsubsidized cost, are likely to be popular choices.
Meanwhile, AT&T's recently announced promotion offering credit for new lines added is also compatible with the Mobile Share Family Value plan. That will see $100 in bill credit added for every new line activated before the end of March 2014.
The sudden competition in cellphone rates owes considerably to T-Mobile, which has been aggressively targeting network switchers over 2013. Earlier this year, outspoken T-Mobile CEO John Legere outlined phase four of the carrier's strategy, offering to pay off the early termination fee (ETF) of subscribers on other networks if they jumped mid-contract to his network, in addition to giving a trade-in price for their current device.