AT&T pink Lumia 900 drops July 15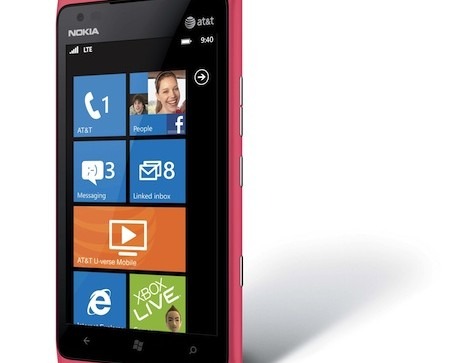 The Nokia Lumia 900 won't be getting Windows Phone 8, but AT&T is hoping that a special, limited edition pink version will distract you from the OS version. Priced at the same $99.99 (with a new, two-year agreement) as the existing color options, the pink Lumia isn't a slapdash paint-job but involves Nokia creating an all-new colored casing. That means, even if you scratch it, there's still pink underneath.
Otherwise, this is the same phone we know and – with a few reservations – love. Up front is a 4.3-inch WVGA display, with a 1.4GHz single-core processor inside and an 8-megapixel cameron the back with 720p HD video recording. It'll also come loaded with a number of exclusive apps, including Nokia Music and Nokia Drive, and the new camera functionality released as part of the Camera Extras pack.
Later this year, meanwhile, Microsoft will release Windows Phone 7.8 for the Lumia 900, bringing the refreshed Metro homescreen and some other aesthetic tweaks to the handset. What it won't get is the true WP8 upgrade, like all other current-gen Windows Phones.
The pink (aka magenta) AT&T Nokia Lumia 900 will go on sale in the carrier's stores from July 15. It'll also be sold online.