AT&T Nokia E71x Finally On Sale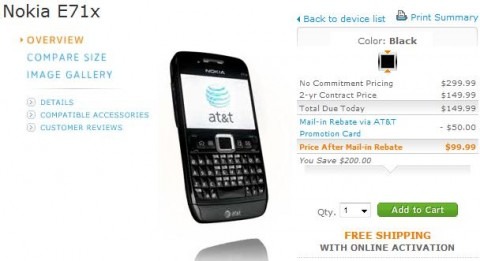 It's been a long time coming – spotted in the wild all the way back in November 2008, in fact - but AT&T have finally released the Nokia E71x.  Currently on sale at the AT&T online store for $99.99, after a $50 mail-in rebate, the candybar smartphone has a full QWERTY keyboard and a 3.2-megapixel autofocus camera.
There's also WiFi, AT&T Navigator and GPS, together with the carrier's MEdia Net and CV mobile video service.  AT&T also load their Mobile Music store onto the cellphone, for on-the-go downloads, and there's 3G, Bluetooth and USB connectivity.
The AT&T Nokia E71x measures 4.4 x 2.2 x 0.4 inches and tips the scales at just 4.4oz.  Internal memory is 120MB, expandable via up to an 8GB microSD card, and the 1,500mAh battery is rated for up to 4hrs talktime or up to 12 days standby. 
Press Release:
Nokia E71x with AT&T in stores across the U.S. today

Text it, don't say it – survey reveals growing trend in messaging

White Plains, NY, USA – Nokia announced that the slimmest smartphone on the market, the Nokia E71x, will be available in AT&T retail stores and online beginning today. Priced at just USD 99.99*, this much-anticipated full QWERTY smartphone arrives at a time when one in two people surveyed** say they would prefer to communicate via text message or email over phone calls.

"The trend for messaging, whether email, IM, texting or social networking, is stronger than ever – we are seeing a real shift in the way people prefer to communicate," says David Petts, Vice President and General Manager, AT&T Account, Nokia. "The E71x is one of the most stylish and sophisticated QWERTY smartphones on the market, and it's the ideal companion for people who enjoy easy messaging and connecting with their friends. We are thrilled to now bring this sleek smartphone to people across the United States with AT&T."

In a recent survey conducted with 500 American adults aged 18 and above, 52 percent said they would prefer to use texting or emailing if they had to use only one communication method for two weeks. The option of only making voice calls for two weeks trailed behind at 40 percent, according to the people surveyed. The survey, commissioned by Nokia, looked at the way people use messaging and social networking on their mobile devices.

The results revealed that both texting and social networking from the mobile device are playing a part in the romantic side of life. More than one in four, or 26 percent, have made plans for seeing a special someone via social networking on their mobile, and 64 percent have made plans for a date via text messaging. Additionally, 32 percent of those surveyed have responded to a text message during a romantic dinner, and more than one in ten, or 11 percent, have actually interrupted a romantic engagement or dinner to respond to a social networking message. The same percentage of people say they have ended a romantic relationship via text, and seven percent have ended a relationship via social networking from their mobile.

Nearly three in four people, or 69 percent, said they send text messages at least once a day. What they use it for is revealing – nearly one in three, or 29 percent, say it is acceptable to tell friends/family they just got laid off via text message and one in ten would "call" in sick to work via text messaging.

In fact, actual behavior trumps intended behavior – 13 percent have called in sick to work via text. An additional 12 percent of respondents say they actually have spread news of their lay off to friends/family via texting. According to the survey, people are also using messaging and social networking to stay ahead in a tough economy. Eleven percent said they have secured a business deal via text and 6 percent have successfully used social networking to nab new business.

"Cutting-edge smartphones like the E71x are a huge hit with our customers who see their mobile phone as a hub for their digital lives," said Michael Woodward, vice president, Mobile Phone Portfolio, AT&T Mobility and Consumer Markets. "Our customers rely on smartphones to stay connected using e-mail, text messaging, and social networks. The E71x is ideal for that."

The thinnest QWERTY smartphone on the market, the Nokia E71x, has high-speed 3G connectivity, WiFi, and features a built-in music player and a 3.2 megapixel auto-focus camera to connect people to their passions -be it messaging, social networking, listening to music, taking and sharing images or even navigating to a date or job interview with AT&T Navigator.

The Nokia E71x is available from AT&T stores and online from www.wireless.att.com at a retail price of USD 99.99 with a contract and mail-in-rebate. Additional information is available from http://www.att.com/nokiaE71x .

* For the Nokia E71x, pay USD149.99 and after mail-in rebate, receive USD 50 AT&T promotion card. A two-year service agreement is also required. AT&T promotion card valid wherever major credit cards are accepted and for 120 days after issue date. May be used to pay wireless bill. Not redeemable for cash and cannot be used for cash withdrawal at ATMs or at automated gas pumps.

** The online survey was commissioned by Nokia and conducted by Braun Research during April 2009. The online survey provides a representative example of 500 Americans, aged 18 years or older. The margin of error for the findings at the 95 percent confidence level is ± 4.38 percentage points.