AT&T LG Optimus G Pro arriving May 10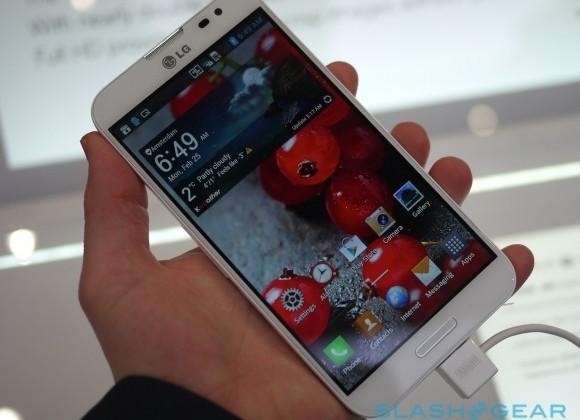 AT&T has officially announced pricing and availability for the new LG Optimus G Pro, and as expected, the new flagship smartphone from LG will be available exclusively on AT&T's network starting May 10. Pre-orders start this Friday, May 3, at which point you'll be able to grab one for $199 after signing a two-year contract with the carrier.
Some of the more notable specs of the Optimus G Pro include a gargantuan 5.5-inch display with a full 1080p HD resolution, and a 1.7GHz Qualcomm Snapdragon S4 Pro quad-core processor on the inside, along with 2GB of RAM. The phone also has a 13MP rear camera, along with a 1.6MP front-facer for those selfies we know you love taking.
AT&T says that the Optimus G Pro will be eligible for the carrier's recently-revamped $100 trade-in program, where you get at least $100 towards a new phone if you give them your old AT&T device, no matter how beat up it is. This means that you'll get the new LG phone for $99 or less if you bring in your old phone to trade in.
We first laid hands on the phone back in February during Mobile World Congress in Spain, where we also took it on an adventurous photo tour, where we tested the phone's camera to no end, and we received some pretty impressive results with the pictures that we took. You can check out our photo tour with the new device, as well as our hands-on session.