AT&T iPhone MMS delayed until September? Tethering cost controversy continues [Updated]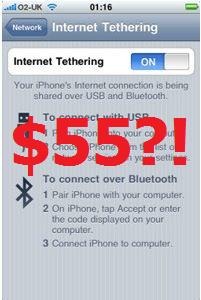 We probably shouldn't be surprised, but AT&T have reportedly delayed the activation of MMS for the iPhone until September.  According to Appmodo, AT&T themselves suggested that the originally tipped date of mid-July would be missed; they've now heard that in fact MMS will come three months after Apple enabled the feature in iPhone OS 3.0.
MMS will be accompanied by iPhone tethering, it's believed, which Appmodo insist is still expected to cost an extra $55 per month.  That's on top of existing data plans for the iPhone.  Users will be able to connect their laptops via USB or Bluetooth.
AT&T tethering cost denial after the cutUpdated with new comments from AT&T
AT&T, meanwhile, have denied the $55 reports on their Facebook page, though they've not made clear exactly how much they will be charging:
"There are a lot of reports out there, but wanted you guys to know that rumors of $55 tethering plan on top of an unlimited data plan are false. We'll have more news to share when the iPhone tethering option is closer to launch." AT&T
As for MMS messages, it's said they'll be included in current text messaging plans, which could be the only bit of good news left to relate.  The source for this new date is unclear, however, so there's no telling whether AT&T might once again postpone its roll-out.
Update: AT&T have been in contact to assure us that they have not yet settled on a price for iPhone tethering, and that while there will be a charge for the plan they don't yet know what it will be.  There is also no "announced" date for when tethering will be available, but iPhone MMS is still on track for "later this summer".