AT&T iPhone tethering at end of July for $55?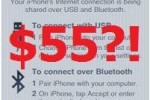 The AT&T tethering debacle continues, and after yesterday's super-simple unofficial hack, now comes the first leak regarding possible pricing for the carrier's official package.  According to an internal AT&T source, tethering for the iPhone 3G and 3G S will be offered at the end of July, priced at a whopping $55 per month.
The source also went on to say that MMS support on AT&T is expected in mid-July, earlier perhaps than the carrier led us to believe with their "end of the summer" promises.  AT&T have already confirmed that MMS messages will be charged the same as SMS messages.
Still, $55 per month to use your iPhone as a 3G modem is very steep, and there's no word on exactly what sort of allowance you can expect for that.  UK carrier O2 charge £14.68 ($24) for 3GB per month or £29.36 ($48) for 10GB.
[via IntoMobile]