AT&T iPhone 3G prices for contract-breakers and contract-free revealed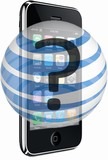 With less than two weeks until the iPhone 3G launches in the US, AT&T are finally opening up a little about pricing details.  While the headline was Steve Jobs' promise of a $199 entry-level price point, that left many users already tied into non-iPhone contracts wondering how much exactly an upgrade would cost them.  We now know that those customers not eligible for an upgrade will have to pay $399 for an 8GB iPhone 3G and $499 for the 16GB version.
Read on for news of contract-free iPhones direct from AT&T!
Another interesting – and long awaited – development is official PAYG iPhones in the US, and AT&T has revealed that it will eventually be selling the handset for $599 and $699 (for the 8GB and 16GB models respectively).  No timescale has been given.
The carrier has also clarified the contracts on offer, what minutes are included and details of the iPhone 2.0 software, which will be available as a free download for existing owners.  They've also been answering some of our readers' questions in an iPhone 3G Q&A, so if you're still confused leave a comment and we'll try to put it to AT&T.  Head on over to iPhone Buzz for all the details!
More videos at iPhone Buzz