AT&T data plans take over with Mobile Share as traditional non-data edges out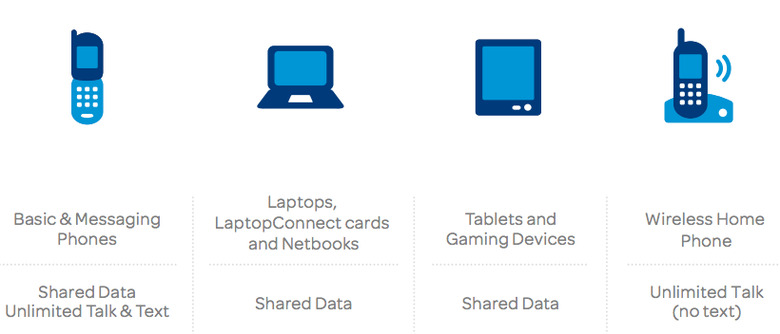 This afternoon the folks at AT&T have made clear – sort of – their plans to move forward with their Mobile Share plans through the future, suggesting as they do that users currently on non-data phone plans will be able to stick to the old ways (for now). Until a time when traditional plans are axed completely, the basic $40 USD plan for 450 minutes of talk time will remain available – that's without data or text messaging of any kind, mind you. Mobile Share plans have been laid out as well.
It would appear that AT&T has joined the party in suggesting their competitors are doing things wrong, as well. In a press release appearing this afternoon, AT&T wrote the following: "Unlike some wireless providers, none of our customers will be forced to switch plans if they'd like to stick with what they have – even when upgrading to a new device." This is of course a stab at Verizon's plan changes over the past couple of years, while T-Mobile has lent their suggestion for "shaking things up" with competitors this week as well.
Current plans in the "AT&T Mobile Share Plans" roster include a lowest tier at 300MB of data with unlimited talk & text for $20 plus $50 per smartphone per month – that's a price of $70 USD minimum, with additional data (overage fees) at $20 per 300MB. Starting in at 1GB of data a month, you'll be working with a $40 base fee with $45 per smartphone per month, that's $85 a month, with $15 per 1GB of overage data.
Each of these plans are able to add extra devices for the following fees: wireless home phone $20 with unlimited talk (and no text), basic and messaging phones $30 with unlimited talk and text (and shared data), laptops and LaptopConnect cards and Netbooks $20 with shared data, and tablets and gaming devices $10 with shared data.
If you're not all about connecting a smartphone in the first place, there are also data only plans starting at 4GB for $30 a month plus device fees – $10 per month for tablet and gaming devices, $20 a month for laptop, LaptopConnect Card, and netbook devices. Additional data on this plan will cost you $15 per GB per month, as well.