AT&T Confirms iPhone Insurance Hike On October 4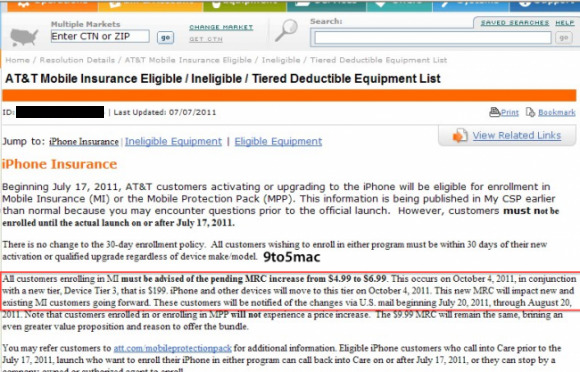 AT&T has confirmed previous rumors that it will be increasing the cost of iPhone insurance starting October 4. The carrier looks to be taking advantage of the high influx of new iPhone customers that will likely result from next Tuesday's unveiling of the iPhone 5. It's interesting to note that AT&T had this date picked all the way back in July, according to the below leaked screenshot obtained by 9to5mac.
The leaked internal document revealed that AT&T will have a new tiered deductible schedule with non-refundable deductibles ranging from $50 to $199. The monthly rate will be increased from $4.99 to $6.99 and all this would take effect starting October 4. The carrier also seemed to make it a point that the iPhone would be moved to this tier plan as well. The carrier has now confirmed this change by posting this new page on its website.
This could be just coincidence that Apple's "Let's Talk iPhone" event is scheduled on that very same day, but it could also mean that the next-gen iPhone may be ready to ship sooner than the rumored October 7 date. Stay tuned for our live blog of the event to get all the details.
[via 9to5mac]