AT&T blocks BlackBerry Bridge app for PlayBook [Update 2: AT&T responds]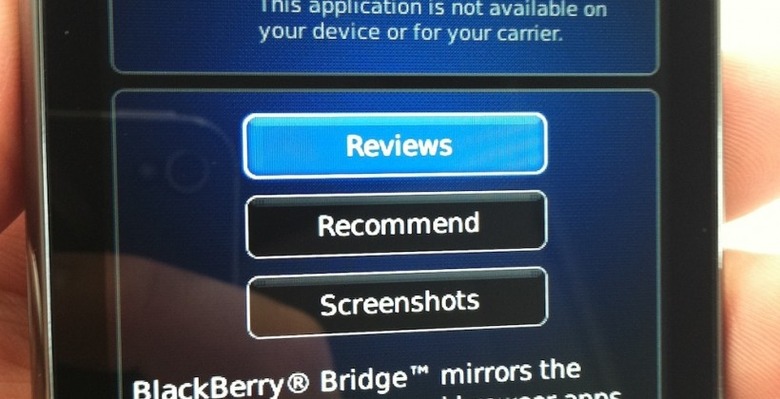 AT&T may have undermined an integral part of the BlackBerry PlayBook's functionality, over what looks to be concerns regarding tethering use. BlackBerry Bridge is the system by which RIM allows for email, contacts, calendar and other app access on a PlayBook tablet from a BlackBerry smartphone; however, it also allows for tethering, something which seems to have prompted AT&T to block the app.Update 2: AT&T statement after the cutCrackBerry found that, when they tried to use the Bridge app, AT&T was listed as an unsupported carrier. That means no access to email on the handset, and since the PlayBook currently lacks a dedicated email app of its own, it's a significant shortcoming.
AT&T's issue, it's speculated, is that through Bridge the PlayBook can get online using the smartphone's connection. That wouldn't be recognized as tethering – i.e. something that AT&T charges more for subscribers to access – and so Bridge has seemingly been blocked as a result.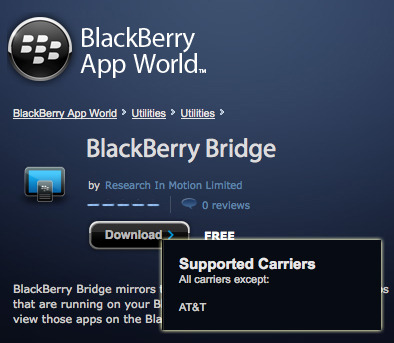 Enterprising PlayBook owners have already found a direct, OTA link to the .jad file, which seems to work, but if AT&T persists in blocking Bridge then RIM may have issues with enterprise clients using the network. Neither company has publicly commented on the issue.
Update: We've just tried to install BlackBerry Bridge on an AT&T BlackBerry Torch, and been presented with the image shown at the top of the page. It looks like AT&T really is blocking the app.Update 2: AT&T has given us the following statement, which suggests that RIM's last-minute submission of the Bridge app to the carrier is the problem here:
"AT&T is working with RIM to make the BlackBerry Bridge app available for AT&T customers.  We have just received the app for testing and before it's made available to AT&T customers we want to ensure it delivers a quality experience for our customers."