AT&T ASUS MeMO Pad FHD LTE 10.1 is carrier/OEM first with Android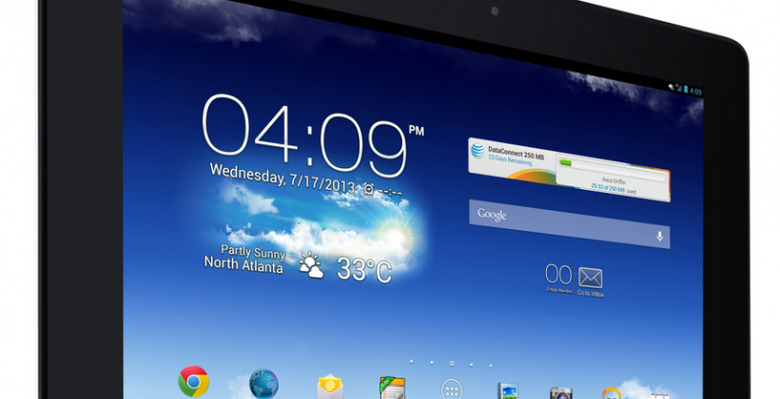 This week AT&T is adding a whole pile of devices to their ranks with several smartphones, a smartwatch, and none other than the ASUS MeMO Pad FHD LTE 10.1. This device is the first time the carrier has officially carried an ASUS tablet, and it's certainly a decent one: with a 10.1-inch Full HD display (that's 1920 x 1200 pixels across its face) and Android 4.2 Jelly Bean under the hood, you've got one of the most smooth devices on the market today. While we'd certainly rather be rolling with the slightly more powerful ASUS Tranformer Infinity with it's NVIDIA Tegra 4 quad-core SoC, this tablet runs with one that's certainly tried and true: the Qualcomm Snapdragon S4 Pro quad-core SoC.
There's also a version of this machine out there with a dual-core Intel Atom processor, mind you – that's only coming with Wi-fi (and you'll have to order that one internationally, too). You'll be able to pick this machine up for $399.99 USD if you want it off-contract (with 4G capabilities, but no obligation to pay for data for two years), or if you want a 2-year contract with data (that's A&T's 4G LTE, mind you) you can grab it for $299.99 USD instead.
This device rolls with what's easily the best deal on the carrier if you're comparing price to specifications straight up. You'll be working with ASUS' own user interface with connections to their own cloud services (new this year), and 16GB of built-in storage. You've got a 5-megapixel camera on the back of this machine, a 1.2-megapixel camera up front, and a massive 6760mAh batter inside so you'll have more up-time than you know what to do with.
This device also works with some interesting new audio technology. While we've not gotten the opportunity to work with this ASUS SonicMaster audio technology and speaker system up close, we're to understand that its "ground breaking" – we'll see asap!
This device is available with AT&T starting this week – have a peek at it in stores immediately if not soon! And make sure to hit the timeline below for additional encounters we've had with ASUS tablets recently – they're (in general) not to be missed!