ATI Radeon HD 5570 launched, reviewed: $80 low-profile DirectX 11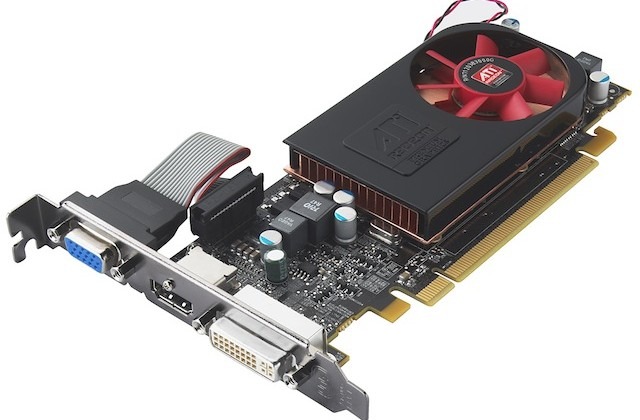 AMD have outed their latest DirectX 11 compatible video card, the ATI Radeon HD 5570, and it's specifically targeted at those with low profile cases.  The HD 5570 packs the same ATI Eyefinity multi-display support and ATI Stream support as other 5500-series cards, together with 1080p HD and HDMI 1.3a with Dolby TrueHD and DTS-HD Master Audio.
That all makes it pretty much ideal for an HTPC, especially since the card supports not only HDMI but DVI and VGA outputs.  Still, AMD reckon you'll be able to do some gaming, too; the HD 5570 apparently offers a 60-percent performance boost over its closest competitor.
This is certainly the intermediary card tipped to slot in-between the ATI Radeon HD 5450 announced earlier this week and the previous HD 5670, coming in at around $80.  TechSpot, HardOCP and Tom's Hardware have all reviewed the new card, and the general consensus is that while it offers a neat boost over the HD 5450, current online pricing for the HD 5670 place it only $10-20 more.  Given that low difference, the ATI Radeon HD 5570 slots itself into a particularly small niche.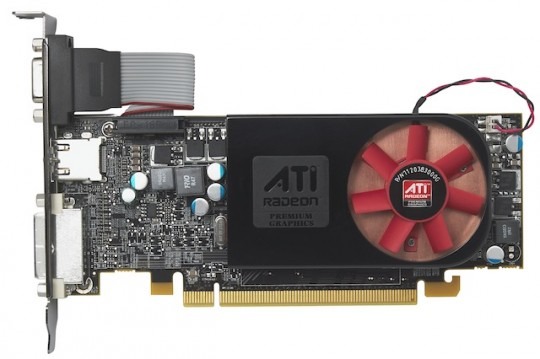 Press Release:
ATI Radeon™ HD 5570 Graphics Brings a Big Visual Experience to Small Form Factor PCs

The newest addition to the AMD graphics family strengthens the world's only complete line-up of award-winning DirectX® 11 capable graphics cards, delivering exceptional HD multimedia and gaming performance at a mainstream price

SUNNYVALE, Calif. —2/9/2010

AMD (NYSE: AMD) today introduced the ATI Radeon™ HD 5570 graphics card, perfect for end-users seeking an energy efficient, low-profile DirectX® 11 card for small form factor PCs. The ATI Radeon HD 5570 graphics card joins the award-winning line of AMD graphics that fully support DirectX 11, as well as ATI Eyefinity multi-display technology1 and ATI Stream capabilities.2 This latest offering completes a full DirectX 11 refresh of AMD discrete graphics products, bringing customers a choice of cutting-edge graphics cards to match every budget and form factor.

"AMD recognizes that small form factor PCs are becoming more popular and low profile graphics upgrade options have been limited to date," said Matt Skynner, vice president and general manager, AMD Graphics Division. "Customers purchasing small form factor PCs are looking for improved performance while gaming, watching HD video or working with the latest productivity applications. The ATI Radeon HD 5570 graphics card delivers all of this at a price that won't break the bank."

In addition to ATI Eyefinity and DirectX 11 support, the ATI Radeon HD 5570 also delivers full 1080p HD playback3 and supports ATI Stream technology,2 helping to boost performance for video playback and productivity applications, all while enabling a full Microsoft Windows® 7 experience.4

A sleek, energy efficient PC based on ATI Radeon HD 5570 graphics, combined with new AMD Phenom™ II X4 905e processors at 65W and AMD 7-series chipsets, can power immersive gaming and vivid digital entertainment. These platforms are an excellent choice for system builders and home theater enthusiasts seeking Eye-Definition entertainment.

Advanced performance, affordable price: The ATI Radeon HD 5570 graphics card provides great game play in DirectX® 11 titles such as Codemaster's Colin McRae™: DiRT® 2™, EA Phenomic's BattleForge™ , GSC Game World's S.T.A.L.K.E.R: Call of Pripyat™ and Battlefield: Bad Company™ 2 as well as DirectX® 9, DirectX® 10, DirectX® 10.1 and OpenGL titles. The ATI Radeon™ HD 5570 delivers up to a 60 percent performance improvement over the closest competing product in its class.5

Expanding the Desktop: The latest in ATI Eyefinity technology enables up to three displays to be used with a single ATI Radeon HD 5570 graphics card,1 delivering a highly immersive gaming experience, and helping to boost productivity in home and office applications.

Accelerate with ATI Stream technology: ATI Stream technology helps to speed up video transcoding and to improve video playback performance with applications such as Adobe® Flash®. ATI Stream technology also delivers video enhancements that help enable better visual quality and sharper, more vibrant images.2

Immersive HD multimedia experience: The ATI Radeon™ HD 5570 graphics card delivers the same rich HD multimedia capabilities as the enthusiast-class ATI Radeon HD 5870, with features such as HDMI 1.3a with Dolby TrueHD and DTS-HD Master Audio for a premium media PC experience.