ATI Radeon HD 4830 sub-$150 video card rumored for October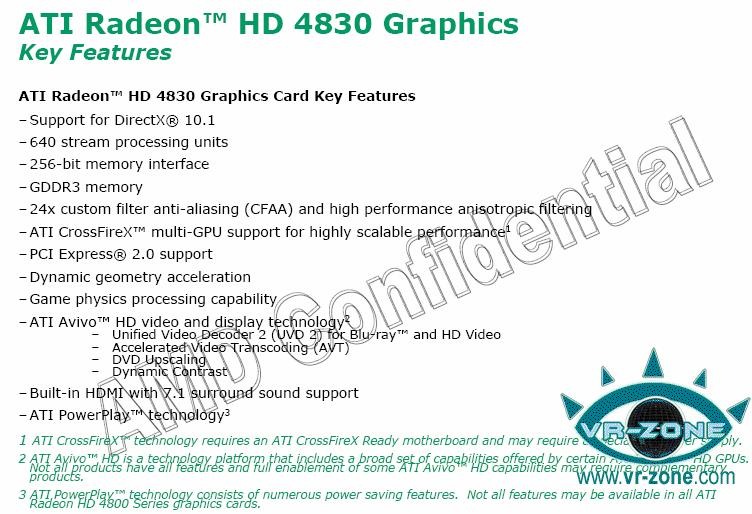 ATI are planning a sub-$150 HD 4000 series video card that will take on NVIDIA's GeForce 9800 GT, in the shape of the Radeon HD 4830.  According to leaked slides from AMD, the card will feature 640 stream processors, a 256-bit memory interface and GDDR3 memory, and slot in-between the Radeon HD 4850 and HD 4670.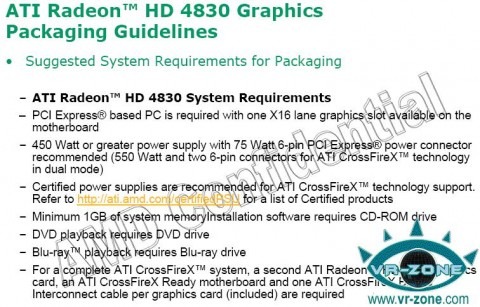 A PCI Express card, the HD 4830 will require a minimum 450W PSU and be compatible with ATI CrossFireX.  It will have built-in HDMI with 7.1 surround sound support and come with a Blu-ray decoder.
The ATI Radeon HD 4830 is expected to launch on October 21st.  Pricing is, as stated, believed to be sub-$150; considering the NVIDIA GeForce 9800 GT retails for around $130, it seems likely AMD would continue the pressure by also aiming for that figure.
[via The Tech Report]