ATI Radeon HD 4830 announcement on Thursday October 23rd?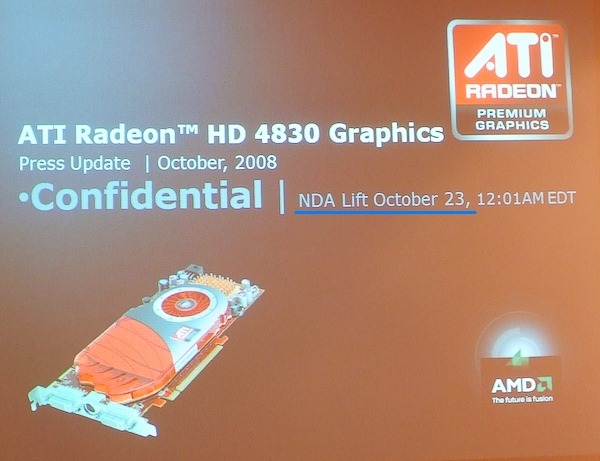 Today is the day that AMD were rumored to be announcing the ATI Radeon HD 4830, a sub-$150 video card that would directly rival the NVIDIA GeForce 9800 GT.  However, according to a leaked pre-embargo slide from Engadget Chinese, it looks as though we may have to wait a couple more days: the NDA doesn't lift until October 23rd, suggesting the HD 4830 will be officially announced this Thursday.
The ATI Radeon HD 4830 is believed to be a PCI Express card, require a minimum 450W PSU and be compatible with ATI CrossFireX.  It will have built-in HDMI with 7.1 surround sound support and come with a Blu-ray decoder.  From previous leaked information, it's believed the card will feature 640 stream processors, a 256-bit memory interface and GDDR3 memory.
Price-wise, the HD 4830 will slot in-between the Radeon HD 4850 and HD 4670, hence the sub-$150 prediction.  The NVIDA GeForce 9800 GT currently retails for around $130.