ATI Mobility Radeon HD 4860 & 4830: 40nm full HD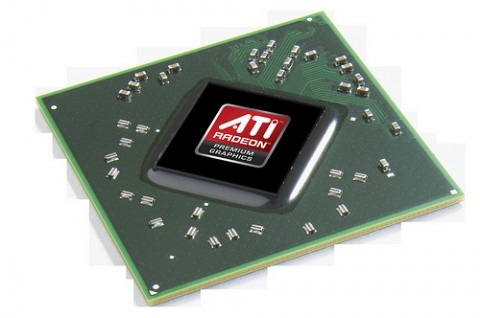 Hot on the heels of NVIDIA's GeForce announcement comes word from AMD regarding their own HD-capable mobile GPUs.  The ATI Mobility Radeon HD 4860 and ATI Mobility Radeon HD 4830 are the world's first graphics processors to use 40nm process technology, and are capable of beyond-1080p mobile gaming.
According to AMD, the ATI Mobility Radeon HD 4860 and ATI Mobility Radeon HD 4830 both distill the 3D engines from the desktop HD 4800 series of video cards, and as such are capable of full 1080p video playback and beyond-1080p gaming resolution.  However because of the smaller, 40nm process, they're capable of fitting in ultraportable notebooks.
ATI's Universal Video Decoder (UVD) can take on all the processing required for playback of a Blu-ray disc, leaving the CPU completely free; alternatively they can upscale to 2560 x 1600 on dual-link monitors.  The first notebooks to use the new ATI GPUs will be from ASUS, who expect to have products on the market beginning Q2 2009.   
Press Release:
AMD Launches World's First 40nm Graphics Processors: ATI Mobility Radeon™ HD 4860 and ATI Mobility Radeon™ HD 4830

HANNOVER, Germany –(Business Wire)– Mar 03, 2009 AMD (NYSE: AMD) today announced the world's first graphics processors to harness 40nm process technology: the ATI Mobility RadeonTM HD 4860 and ATI Mobility RadeonTM HD 4830. These feature-rich graphics processors redefine mobile PC entertainment with advanced capabilities including support for the latest Microsoft DirectX® 10.1 games, a home theater-quality HD multimedia experience, and energy-efficient features for long battery life at work, at home or at play.

"People now decidedly prefer mobile PCs, and innovations like this 40nm mobile GPU show AMD is uniquely positioned to make the best entertainment experiences of desktop PCs possible in a notebook," said Rick Bergman, senior vice president and general manager, Graphics Products Group, AMD. "Depending on the performance of the panel or external monitor, laptops that feature these tiny, powerful but efficient graphics engines can run today's most demanding game titles at beyond 1080p HD resolution, or playback full 1080p HD video with high energy efficiency thanks to ATI PowerPlay™ and 40nm process technology."

ATI Mobility Radeon HD 4860 graphics will be featured in the forthcoming Asus K notebook.

"ASUS always strives to be first to deliver the newest and most advanced technology to our customers and launching the Asus K series Notebook with these new graphics processors from AMD demonstrates that," said Henry Yeh, GM of ASUS' Notebook Business Unit.

The new 40nm production process allows notebook manufacturers to deliver more graphics horsepower in a smaller ASIC die size, giving people access to highly capable discrete graphics ideal for smaller notebooks. This milestone marks the fifth consecutive first-to-market process transition for ATI graphics processors.

"AMD always seeks to deliver the most advanced, yet relevant technology to our customers," continued Bergman. "We were first with DirectX® 10.1 support, first to design graphics cards supporting GDDR5 memory technology, first with WHQL certified drivers for Windows Vista®, first to launch a unified shader architecture, and for the fifth consecutive time, first to launch GPUs based on a new process node. That's a meaningful track record of reliable execution for our customers."

"AMD continues to push the envelope of graphics processor performance, energy efficiency, and leading features with the introduction of its 40nm graphics processors," said Mark Liu, senior vice president, Advanced Technology Business, TSMC. "TSMC and AMD have a long history of success bringing the first graphics processors to market on new process technologies, including 90nm, 80nm, 65nm, 55nm and now 40nm."

The GPU for the best mobile HD entertainment

ATI Mobility Radeon HD 4860 and ATI Mobility Radeon HD 4830 graphics processors feature powerful 3D engines derived from the award-winning ATI Radeon™ HD 4800 desktop series architecture with support for DirectX 10.1. Take crisp, detail-rich images and outstanding visual effects wherever you go for unparalleled levels of 3D gaming realism. The ATI Mobility Radeon HD 4860 supports GDDR5 memory technology contributing to stunning improvements in game play and performance with nearly twice the memory bandwidth of GDDR3.

Home theater enthusiasts can enjoy a portable HD experience with full 1080p HD viewing on HD-capable displays and or TVs. People can upscale to nearly twice the display resolution of HD content or watch standard definition video in near-HD quality with enhanced DVD up-scaling*. The second generation AMD Unified Video Decoder (UVD) keeps the CPU free to run social media applications or virus scan while UVD helps process intensive content such as Blu-ray movies. This helps lower power consumption and reduces the need for high fan settings, enabling a quieter and cooler laptop experience.

Leading energy efficiency

Additional power-saving features include ATI PowerPlay™, ATI PowerXpress™, and ATI™ Switchable Graphics™ technologies.

Availability

Initially, the ATI Mobility Radeon HD 4860 and ATI Mobility Radeon HD 4830 graphics processors are available in quality notebooks from leading notebook manufacturer ASUS, with models planned for availability beginning in Q2 2009. For more information, visit www.amd.com/mobility/hd4800.

Get more information on ATI Mobility Radeon™ graphics processors

Read what AMD's Rick Bergman has to say about 40nm mobile graphics on AMD Blogs

Check out the images of the new ATI Mobility Radeon™ graphics processors

About AMD

Advanced Micro Devices (NYSE: AMD) is an innovative technology company dedicated to collaborating with customers and industry partners to ignite the next generation of computing and graphics solutions at work, home and play. For more information, visit www.amd.com.

Footnotes:

* Subject to available monitor resolution. The ATI Mobility Radeon™ HD 4800 Series GPUs can upscale video display to 2560x1600 on dual-link monitors which is almost twice the display resolution of 1080p displays in AC mode only.