ATI FirePro V8800: most powerful pro graphics to date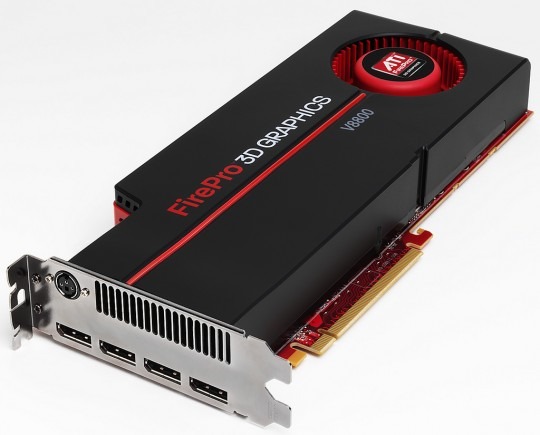 AMD have outed their latest graphics card, and the ATI FirePro V8800 has set its sights on your workstation.  Described as "the most powerful professional graphics card ever created", the V8800's 1600 stream processors offer 2.6 teraflops of power with 147.2 GB/s of memory bandwidth; a single card can drive four 30-inch displays and – if paired with the ATI FirePro S400 Synchronization Module – those panels can all be synchronized, too.
There's obviously OpenGL, OpenCL and DirectX 11 support, along with DirectCompute 11, and the V8800 is optimized for more than 90 pro-graphics packages.  Connectivity includes four DisplayPort ports, and there's 2GB of GDDR5 memory.
That optimization, meanwhile, is handled intelligently, with the FirePro V8800 automatically switching drivers when you move between different apps; that way the card is always performing at its best.  Unsurprisingly, this sort of performance doesn't come cheap: the ATI FirePro V8800 has an MRSP of $1,499.
Press Release:
AMD Extends Leadership To Professional Graphics

ATI FirePro™ V8800 professional graphics with ATI Eyefinity technology supports up to double the display real estate with 2.6 teraflops of breakthrough compute performance in a single card

SUNNYVALE, Calif. —4/7/2010

AMD (NYSE: AMD) announced today the launch of the first of a new family of ATI FirePro™ professional graphics solutions with ATI Eyefinity technology,1 delivering clear performance advances and productivity leadership. The ATI FirePro V8800—the industry's most powerful professional graphics card ever created2 and the only professional graphics solution in the world supporting ATI Eyefinity multi-display technology and Microsoft® DirectX® 11 technology—is available for order today from AMD and its technology partners.

"AMD is the undisputed consumer graphics leader and today we're bringing many of the same cutting edge innovations from our ATI Radeon™ HD 5000 series to the professional graphics market for the first time. The ATI FirePro V8800 with ATI Eyefinity multi-display technology effectively dissolves visual limitations for professionals," said Rick Bergman, senior vice president and general manager, AMD Products Group. "Our ecosystem has never been stronger as we're actively working with leading ISVs and OEMs on a global scale to offer unprecedented choice and advanced performance for handling today's modern workloads. We're confident the latest family of ATI FirePro professional graphics brings new value to the workstation graphics market."

The ATI FirePro V8800 is an affordable (MSRP $1499 USD) and powerful solution, delivering 2.6 teraflops of raw computing power with the highest memory bandwidth (147.2 GB/s) available in any single-card professional graphics solution2 ─ more than two times the compute power of the previous generation ─ making it the ideal solution for manipulating large and complex photorealistic models in real-time. In the coming months AMD plans to round out its next-generation ATI FirePro family, offering a number of solutions to meet the various 2D and 3D needs of professionals working in CAD, Digital Content Creation (DCC), Broadcast, Medical Imaging and Financial Services.

ATI Eyefinity multi-display technology

With ATI Eyefinity technology, professionals can use up to 2x the screen workspace with a single card and increase productivity.3 Three and four display desktop configurations are simple to enable with the ATI FirePro V8800 – users only need to connect the additional displays to the graphics card.1

See more: with one ATI FirePro V8800 users can drive up to four independent 30" displays,4 enabling 16.4 million pixels in vivid color detail for a truly immersive environment.5

Expansive desktop space: manage multitasking more efficiently, and view more designs, applications and images at once.

Speedy workflows: avoid time-wasting application-switching, window-sorting, mouse-clicking and scrolling.

Single desktop: support for an intuitive Graphical User Interface allows configuration of a single desktop surface across multiple displays.

Synchronized outputs: ATI Eyefinity technology works seamlessly with ATI FirePro™ S400 Synchronization Module, enabling up to four displays per graphics card to be synchronized at a time.

Support for industry standards

Next generation ATI FirePro professional graphics are designed for and ready to support leading industry standard application interfaces, including OpenGL®, OpenCL™ and DirectX® 11.

Released by the Khronos Group in March, OpenGL® 4.0 includes a new tessellation feature that allows applications to amplify geometry, generating tessellated geometry based on incoming vertices and allowing professionals to take a rough object defined by only a few vertices and generate new vertices to smooth out the object and provide more detail. AMD has announced its support for OpenGL® through its beta driver for OpenGL® 4.0 and 3.3.

OpenGL® 4.0 also further improves the close interoperability with the OpenCL™ industry standard for accelerating computationally or visually intensive applications.

Next-generation ATI FirePro professional graphics are designed to accelerate OpenCL™ 1.0. Support for OpenCL™ 1.0 is available through AMD's ATI Stream software development kit, which allows developers access to both AMD GPU and x86 CPU processors in a workstation or PC.6

The latest generation of ATI FirePro professional graphics is hardware compliant with DirectX 11®, and ATI FirePro V8800 is the only professional graphics solution capable of supporting DirectCompute 11 today.

As the developer community looks to harness the power and performance associated with heterogeneous architectures, industry standards are needed for developing applications capable of running on all of the available processors in a system. Video is a highly data parallel application and AMD is actively collaborating with consumer and commercial software partners to accelerate transcoding. AMD regularly collaborates with middleware and other video codec providers, such as MainConcept, to help them take advantage of GPU acceleration technologies enabled by AMD's ATI Stream technology and the OpenCL™ standard.6

Assuring reliability

AMD works closely with leading application providers to optimize ATI FirePro professional graphics, and ATI FirePro professional graphics have been certified on more than 90 applications.

All ATI FirePro professional graphics are tested against a battery of simulations and real-world scenarios to ensure compatibility and stability.

AMD also issues regular updates to its unified driver, delivering performance improvements, enhanced features and support across the ATI FirePro family.

Supporting Quotes

"Autodesk recognizes the importance of having our customers invest in a professional graphics solution," said Jim White, director of Global Alliances, Autodesk. "Together with AMD, a leader in the professional graphics space, we're able to provide Autodesk users with visually accurate, high performance creative tools. We look forward to working with AMD and the next generation of ATI FirePro graphics to enable our customers with exceptional productivity."

"Our LX-5 LCoS is the world's first projector to offer 10 million pixel resolution, which is more than four times the resolution of HD," said Yoav Nir, market director Barco. "Using the LX-5 with Barco's high contrast screens provides excellent image details and color quality. Barco's visualization technology combined with the ATI FirePro V8800 and ATI FirePro S400 results in a streamlined, affordable solution for our customers. One ATI FirePro V8800 is powerful enough to drive our projector and no longer requires customers to purchase multiple graphics cards and invest time and resource to manage a more complicated infrastructure."

"As a world leader in 3D design and simulation solutions, Dassault Systèmes SolidWorks Corp. is committed to optimizing its software to take advantage of the innovative features, performance and reliability that ATI FirePro professional graphics have provided our users for many years," said Darren Henry, director of product Marketing, Dassault Systèmes SolidWorks Corp. "With ATI FirePro V8800, our users can create more realistic designs and quickly render them and make necessary changes in near real-time. Not only can users get more done each day, they can spend more time focusing on the task at hand and freely create without being bogged down by technology."

"Our ScalableDesktop software solution blends and warps arrays from one to six projectors into one seamless Windows desktop display. The projectors allow large, curved displays to run at resolutions well beyond typical HD, enabling a more immersive computing experience for users," said Andrew Jamison, chief executive officer, Scalable Display Technologies. "ATI FirePro professional graphics, featuring ATI Eyefinity technology, serve the market for ultra-high definition displays. This easy-to-use and cost-effective single card solution helps make professionals' lives easier, and AMD has delivered."

"3D artists working in production pipelines want and need to maximize graphics quality, performance and productivity whenever possible," said David Koenig, chief executive officer, StudioGPU. "StudioGPU MachStudio Pro coupled with the robust new ATI FirePro V8800 gives artists the ability to effectively harness the power of the GPU to deliver real-time cinematic quality non-linear 3D workflow and rendering on a desktop workstation—essentially opening the door for creativity without boundaries. The dramatic performance boost combined with native support for multiple monitors and DirectX® 11 makes the MachStudio Pro and ATI FirePro V8800 combination an absolute must-have for 3D artists everywhere."

"Broadcasters are increasingly relying on interactive large-scale visualizations to differentiate programming from the competition, and our Viz Video Wall ER helps customers display powerful 3D visualizations capable of running in real-time during live broadcasts," said Gerhard Lang, chief engineering officer, Vizrt. "ATI FirePro professional graphics provide a reliable, powerful platform that is capable of syncing multiple rendering engines quickly."