ATI FirePro 2450: quad WUXGA from one card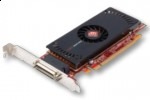 AMD have announced their latest quad-display video card, the energy-efficient ATI FirePro 2450.  Capable of driving four individual monitors while using on average less than 18W, the FirePro 2450 is a low-profile, half-length card capable of fitting in even compact enterprise desktops.
The ATI FirePro 2450 has 512MB of onboard memory and supports both DVI and VGA outputs.  A break-out cable offers four simultaneous connections; inside, the FirePro 2450 supports PCI Express 2.0.
Maximum power requirements are 32W under high-load; with that you're getting up to four displays running at 1920 x 1200 each.  The ATI FirePro 2450 is available now, priced at $499. 
Press Release:
New ATI FirePro™ Graphics Accelerator Brings Outstanding Energy Efficiency to Multiple Display Environments

− Operating at less than 18 watts for exceptional power efficiency, the ATI FirePro™ 2450 quad display card is designed to meet the performance and productivity needs of enterprise environments −

SUNNYVALE, Calif. — March 9, 2009 –AMD (NYSE: AMD) today introduced the ATI FirePro™ 2450, a low profile quad display graphics accelerator that consumes minimal power, delivering exceptional power efficiency. Designed to operate at less than 18 watts, the new graphics accelerator is another example of AMD's leadership in energy efficiency.

"The ATI FirePro 2450 offers the reliability professionals expect and the efficiency IT departments require. IT managers want a card they can test once, deploy virtually anywhere, and count on to run reliably," said Janet Matsuda, senior director, AMD Professional Graphics. "The low power consumption enables cool, energy-efficient operation, as well as superior reliability and longevity. The compact form factor can be deployed in nearly any system. This accelerator is perfect for customers who need more than two displays, such as in financial services and process control."

The low profile design of the ATI FirePro 2450 enables IT departments to standardize on one card that can be installed in a broad range of systems, including workstations, desktop PCs and docking stations featuring AMD or other processors. With 512 MB of on-board graphics memory the card delivers high performance while streaming media and running applications in several windows and includes full Microsoft Windows Vista® Aero support, all while consuming less than 18W of power on average—making the card an exceptional energy efficient solution for virtually any multi-view environment. In addition, the ATI FirePro 2450 supports PCI Express 2.0 and offers two VHDCI connectors with breakout cables for quad DVI-I or VGA support. It allows for flexible output configurations, making the card capable of driving multiple high resolution monitors for the maximum amount of screen space.

The ATI FirePro 2450 is the latest addition to the ATI FirePro multiview offering, replacing the ATI FireMV™ workstation cards used today by many leading financial services organizations.

The new ATI FirePro 2450 graphics accelerator is now available with a MSRP of USD$499. ATI FirePro™ graphics accelerators are available from system integrators and channel partners worldwide. For more information about the new ATI FirePro cards please visit http://ati.amd.com/products/workstation.html.