AT&T iPhone 3G S preorders available from 7am Friday; one handset per person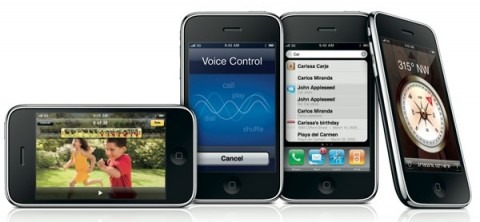 You might not have heard, but the Apple iPhone 3G S goes on sale tomorrow, and AT&T thought you might want to know exactly how things are being arranged come the morning.  The iPhone 3G S will be available from all 211 AT&T stores across the US, just in case you decided not to do the sensible thing and pre-order for home delivery.  Stores are set to open at 7am local time, exclusively for those customers who have pre-ordered for in-store pickup.
If you've left things to chance, or find that the urge to pick up an iPhone 3G S sneaks up on you unexpectedly, remaining handsets in-stock will be available first-come, first-serve from the start of normal business hours; that's likely to be 9am, but it's worth checking with your local store to be sure.
Only one iPhone 3G S will be available per new subscriber, priced at $199 for the 16GB model and $299 for the 32GB model.  If you're a current subscriber, it's worth checking AT&T's new subsidy scheme to see if you quality; otherwise you're looking at $399 and $499 to upgrade for the 16GB and 32GB models respectively.  Existing customers can buy one iPhone 3G S per eligible phone number, while online shoppers can buy one per household.
With all that in mind, who is planning on picking up an Apple iPhone 3G S tomorrow?  Let us know in the comments.
iPhone 3G S distribution center:
Press Release:
iPhone 3G S Available at AT&T Tomorrow

Locations Open Early at 7 a.m. for Customers Who Preordered in Store

AT&T* begins selling iPhone 3G S nationwide tomorrow morning in its more than 2,200 company-owned retail locations. In addition, AT&T today will begin shipping devices to customers who preordered online for arrival beginning tomorrow. iPhone 3G S will also be available tomorrow morning at all 211 U.S. Apple retail stores.

"The time is finally here. We're more than ready to open our doors tomorrow and begin selling the fastest, most powerful iPhone yet," said Ralph de la Vega, president and CEO, AT&T Mobility & Consumer Markets. "We understand that customers are eager to get their hands on this great new device. So we've worked hard to make the experience as easy as possible."

EARLY HOURS FOR PREORDER CUSTOMERS

Many customers have chosen to preorder iPhone 3G S in an AT&T store or online.

AT&T Store Preorders: Customers who preordered in AT&T stores can return to the same store beginning tomorrow morning, with their receipt, to pick up their order. Customers should be sure to check the e-mail notification they received for their actual arrival date as some preorders will arrive after June 19; dates are based on when preorders were made and available inventory. All stores will open at 7 a.m. local time to exclusively serve preorder customers whose orders are expected to arrive on June 19. Any customer is welcome to visit beginning at normal business hours, at which point all customers will be served on a "first come, first served" basis.

att.com Preorders: Customers who preordered online will have their iPhone 3G S shipped to their home or office beginning tomorrow. Customers should be sure to examine their e-mail notification for their actual arrival date as some preorders will arrive after June 19; dates are based on when preorders were made and available inventory.

PRICING

AT&T will offer iPhone 3G S at a variety of attractive prices:

$199 (16GB) and $299 (32GB) for all new AT&T customers and existing AT&T customers who have fulfilled their previous agreement. In addition, AT&T yesterday extended this pricing to iPhone 3G customers who will be eligible for a full upgrade in July, August, or September 2009.

$399 (16GB) and $499 (32GB) for existing AT&T customers who have not yet fulfilled their existing agreement but would like an early upgrade to iPhone 3G S. This early upgrade option is exclusively available for iPhone 3G and iPhone 3G S.

Prices above require a two-year service commitment and approved voice and data plan. Options are available to purchase these phones without a two-year contract commitment.

Existing AT&T customers can easily check their upgrade eligibility at www.att.com/iPhone or by visiting any AT&T company-owned retail store. Customers can also call *NEW# (*639#) from their AT&T handset to receive a text message with information on upgrade eligibility.

CONSUMER PLANS

AT&T customers can choose from several monthly plans that start as low as $69.99 per month for voice and unlimited data (e-mail and Web browsing). All iPhone plans include nationwide long distance and roaming, Visual Voicemail, Rollover®, and unlimited Mobile to Mobile calling.

AT&T FamilyTalk® offers extra value for families who share minutes. Plans start as low as $129.99 a month for two iPhone lines with bundled voice and unlimited data. Up to three additional iPhone lines can be added for $39.99 each.

BUSINESS PLANS

Small business customers may qualify for AT&T BusinessTalk®, a shared minute plan specifically for small businesses. Companies can share up to 20,000 minutes per month between as many as 40 employees. In addition, business customers and employees of many businesses are eligible for discounted service rates. For more information, contact an AT&T business sales representative or visit www.att.com/iphoneforbusiness.

FEATURES

iPhone 3G S is packed with incredible new features including improved speed and performance — up to twice as fast as iPhone 3G — with longer battery life, a high-quality 3 megapixel autofocus camera, easy to use voice recording and hands free voice control. iPhone 3G S includes the new iPhone OS 3.0, the world's most advanced mobile operating system.

Later this summer, AT&T will make multimedia messaging (MMS) available at no extra cost to customers with a text messaging bundle. And, in the future, AT&T will offer tethering capability for iPhone 3G S and iPhone 3G.

All iPhone 3G S customers receive access to more than 20,000 U.S. AT&T Wi-Fi Hot Spots. As part of the iPhone OS 3.0 software, authentication at AT&T hot spots is automatic, allowing customers to seamlessly switch from AT&T's 3G network to an AT&T Wi-Fi hotspot without being prompted.

ADDITIONAL TIPS FOR CUSTOMERS BUYING ON JUNE 19

New AT&T customers who wish to port or retain their phone number from another wireless carrier should consider bringing a copy of a bill from their current service provider. Customers will be asked to provide account information as it appears on record with their current provider, including:

Account number

Name of the account holder

Account holder's Social Security Number or Tax ID

Billing address

PIN or password (if applicable)

Initially, AT&T stores will sell one iPhone 3G S per person for new customers; existing customers may purchase one per eligible telephone number. Online shoppers may purchase one device per household.

Customers who inherit an iPhone 3G from a friend or family member will need to visit an AT&T store to activate their device. Customers who inherit an iPhone can request a SIM card from AT&T and activate at home using iTunes.

Customers should listen to voice mail messages on their current devices and write down any necessary information before purchasing iPhone 3G S, because existing voice mail messages will be lost switching devices.

AT&T will offer accessory bundle options specific to iPhone 3G S in its retail stores.

Additional news regarding iPhone 3G S will be posted in the AT&T Media Newsroom at www.att.com/iPhone_news.

*AT&T products and services are provided or offered by subsidiaries and affiliates of AT&T Inc. under the AT&T brand and not by AT&T Inc.

About AT&T

AT&T Inc. (NYSE:T) is a premier communications holding company. Its subsidiaries and affiliates – AT&T operating companies – are the providers of AT&T services in the United States and around the world. With a powerful array of network resources that includes the nation's fastest 3G network, AT&T is a leading provider of wireless, Wi-Fi, high speed Internet and voice services. AT&T offers the best coverage worldwide, offering the most wireless phones that work in the most countries. It also offers advanced TV services under the AT&T U-verseSM and AT&T | DIRECTVSM brands. The company's suite of IP-based business communications services is one of the most advanced in the world. In domestic markets, AT&T's Yellow Pages and YELLOWPAGES.COM organizations are known for their leadership in directory publishing and advertising sales. In 2009, AT&T again ranked No. 1 in the telecommunications industry on FORTUNE® magazine's list of the World's Most Admired Companies.

Additional information about AT&T Inc. and the products and services provided by AT&T subsidiaries and affiliates is available at http://www.att.com. This AT&T news release and other announcements are available at http://www.att.com/newsroom and as part of an RSS feed at www.att.com/rss. Or follow our news on Twitter at @ATTNews. Find us on Facebook at www.Facebook.com/ATT to discover more about our consumer and wireless services or at www.Facebook.com/ATTSmallBiz to discover more about our small business services.

© 2009 AT&T Intellectual Property. All rights reserved. AT&T, the AT&T logo and all other marks contained herein are trademarks of AT&T Intellectual Property and/or AT&T affiliated companies. All other marks contained herein are the property of their respective owners.