ASUS@vibe Android apps on PC tool released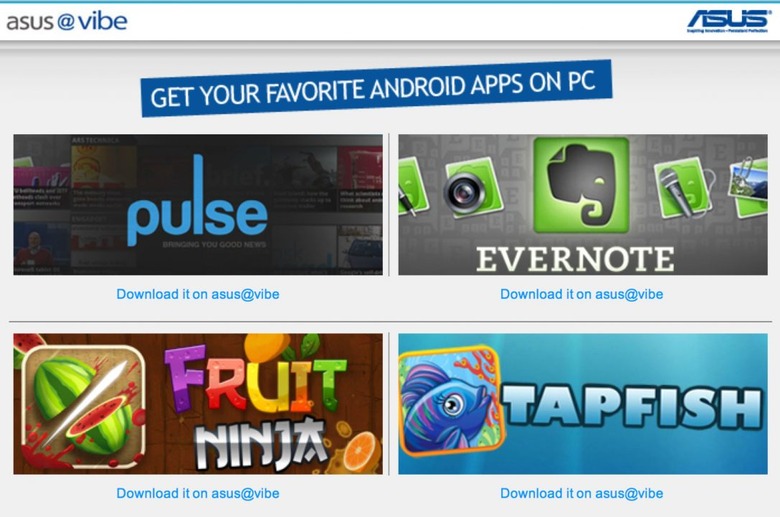 ASUS has released the latest element of its ASUS@vibe system, putting Android apps on its Windows PCs, notebooks and all-in-ones. The new functionality is based on Bluestacks and, according to the company's announcement earlier this month, is headed to new PCs as a preload from September. However, those existing ASUS owners who want to jump the gun can download now.
Apps currently on offer include Fruit Ninja, the Pulse news reading app, Evernote (perhaps an odd option, given Evernote already has a solid PC client) and Bunny Shooter, along with the best-selling Angry Birds Space. There are more choices within ASUS@vibe itself.
ASUS owners will be able to access the apps free of charge for six months, according to the earlier announcement, after which point they'll need to upgrade to Bluestacks Premium Access if they want to keep using them. Pricing for that is still yet to be confirmed.
Android has already served ASUS well on devices like the Eee Pad Transformer and Transformer Prime, and the company is obviously hoping to carry a little of that magic over to its desktop range. That could have some interesting consequences when Windows 8 arrives and Microsoft starts pushing its own Metro apps.
You can download ASUS@vibe here.