ASUS ZenWatch 2 Review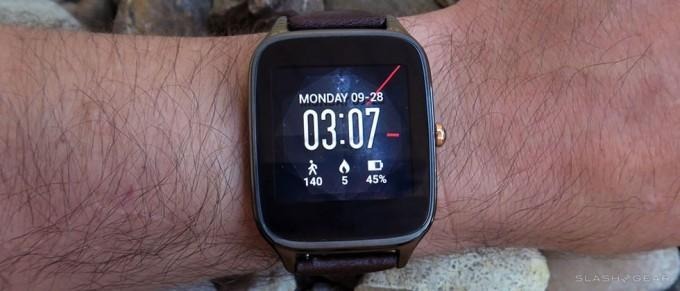 The ASUS ZenWatch 2 presents a new wave of Android Wear watch. While it still runs the same software as the rest of the Android Wear smartwatches out today, it begins to differentiate itself. Not just with a slightly different shape (as ASUS presented with the first ZenWatch), but with a different feel, as well. This version of the ZenWatch comes in two sizes, has a singe physical power/home button, and comes in a variety of tasteful colors and materials.
Wearability
The face of the ZenWatch 2 is significantly smaller than the case. This is different from a device like the the Moto 360 where the display reaches out to the point at which the case begins, rather than leaving a bezel in-between. Like a smartwatch, ASUS chooses to leave space between the display and the case, perhaps giving your eyes a place to rest (if that's necessary for you).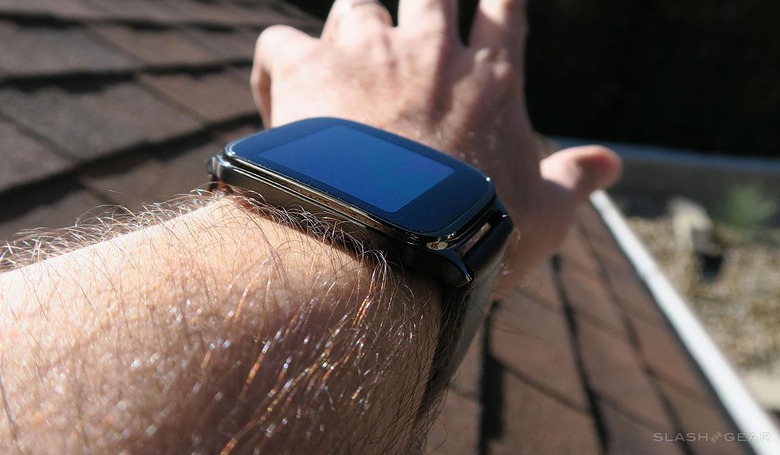 The ASUS ZenWatch 2 has a quick-release band on it right out of the box, which means you're going to at least have an easy time taking the band off if you want to switch it. ASUS is smart to allow other bands to come in and switch out easily – though the band we have here is certainly fine in its own right.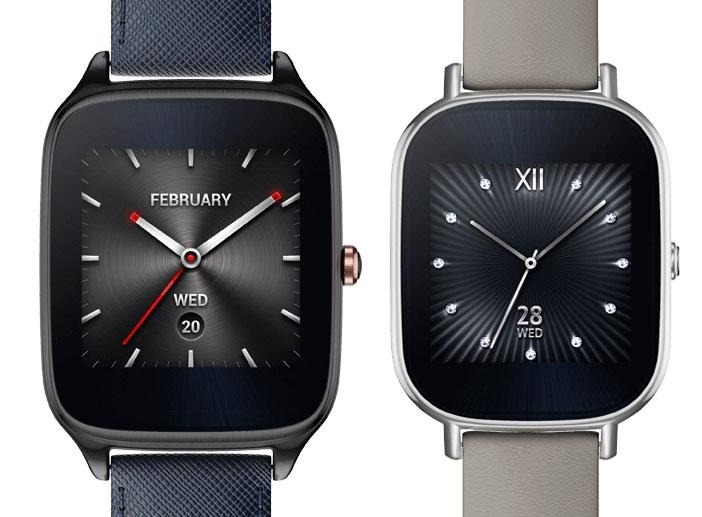 Above you'll see the two different sizes of the ZenWatch 2 with different bands, as well. Not all versions will be available at launch (this week).
The ZenWatch 2 we're reviewing is one of the larger models. There's a "W1501Q" model and a "W1502Q" model, the former a larger 49.6 x 40.7mm case with 1.63-inch (41.4mm) display, the latter a smaller 45.2 x 37.2 case with 1.45-inch (36.83mm) display.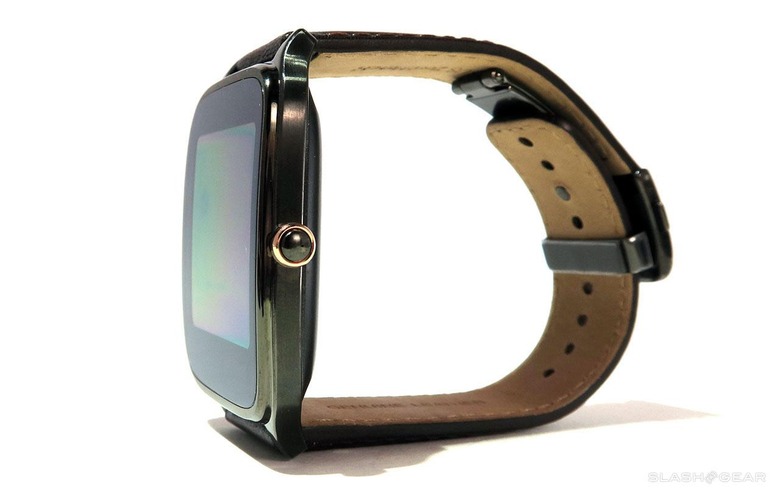 Both displays work with AMOLED technology and have display densities just a few pixels different from one another. The ZenWatch 2's smaller and larger watches' displays are so close in sharpness, you won't be able to tell the difference between the two. Not without a microscope or a very macro-friendly camera.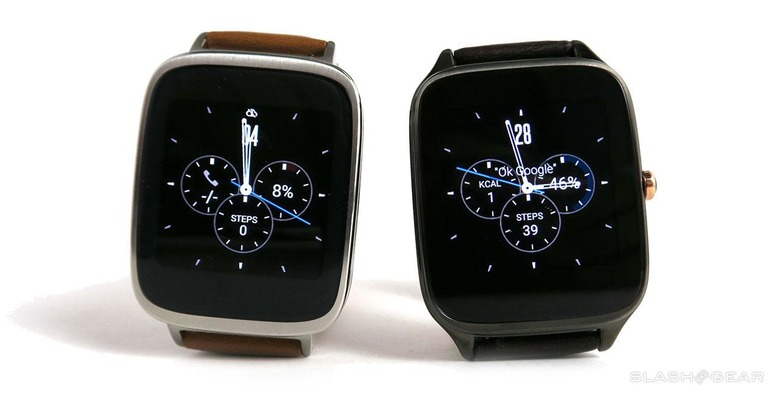 The image you see above shows the ZenWatch 2 (gunmetal color, with button), and the ZenWatch (without the button). See how similar their displays are?
The ZenWatch and the ZenWatch 2 (the larger), have the same display sharpness – the difference between the two is not perceivable to the naked eye.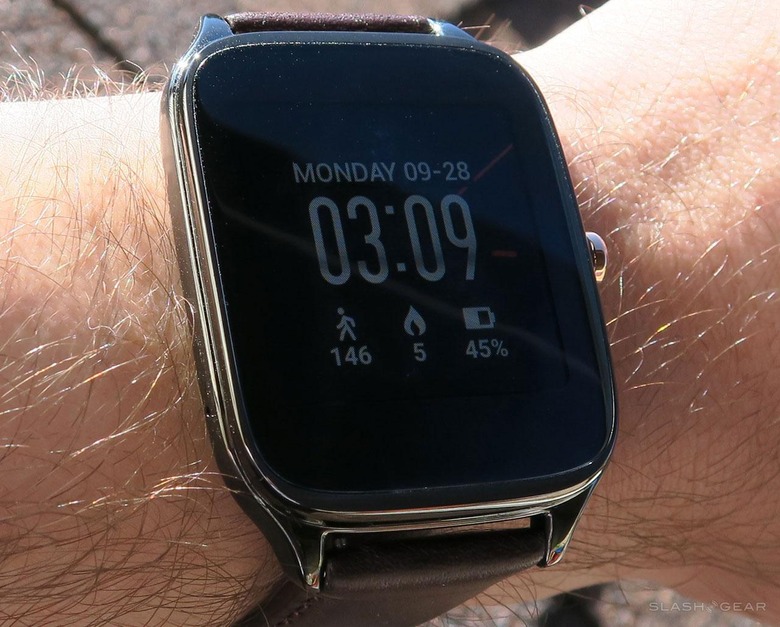 Above you'll see a big fat photo of the face of the ZenWatch 2 at a slight angle, outside, in indirect sunlight. Below you'll see the ASUS ZenWatch in direct sunlight, still able to be read and used with relative ease.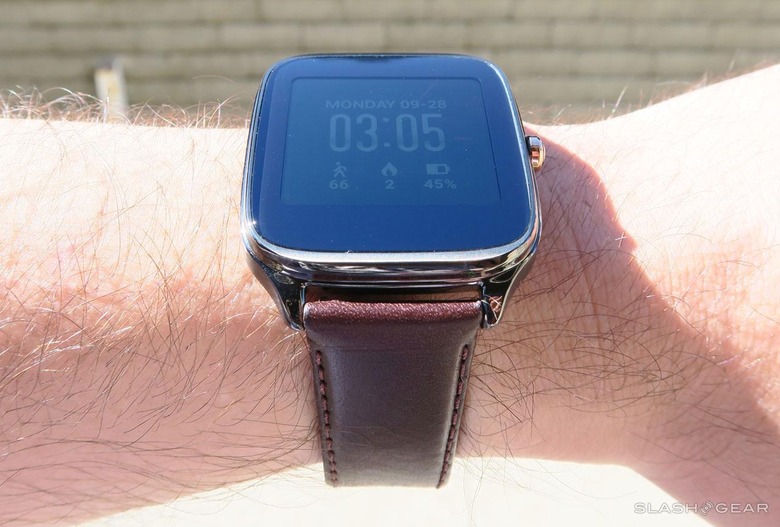 The W1501Q's display has 320 x 320 pixels – that's 277 pixels per inch. The W1502Q's display has 280 x 280 pixels – that's 273 pixels per inch. Both displays have 2-finger touch touchscreen panels.
Software
Like all Android Wear watches sold this year, the ZenWatch 2 comes with a collection of manufacturer-made software watch faces. ASUS provides a cool 39 faces right out the box – but of course you have access to hundreds more through the Google Play app store.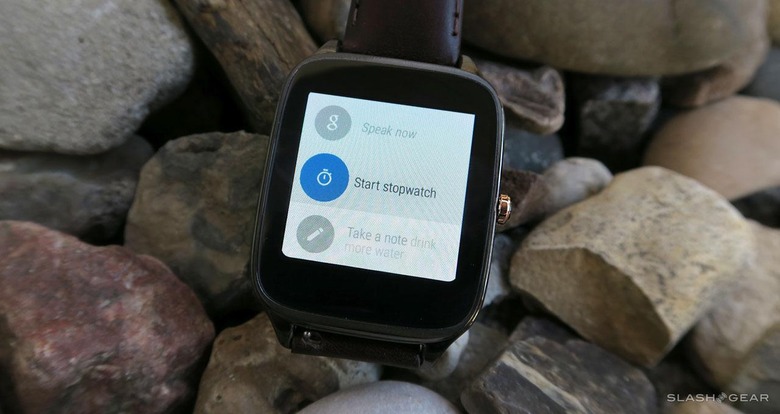 ASUS provides its own middle-man app between your watch and the Google Play app store – the ZenWatch Manager app. This app gives you suggestions on what watch faces you might want to wear and acts as an alternative to your basic Android Wear app for Android devices.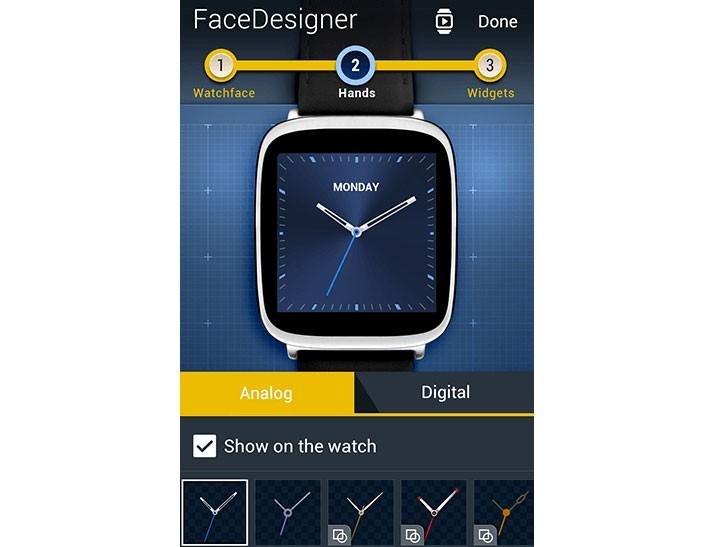 You can also use this ZenWatch Manager app to create your own watch faces from a collection of elements. Pretty spiffy.
As with all Android Wear devices, you have access to the same Android Wear apps that everyone else does – all the square-friendly apps, that is to say. Which is most of them that aren't made for a specific device.
Connectivity
Both devices have Bluetooth 4.1 and Wi-fi capabilities, and both have 6-axis (accelerometer and gyroscope) sensors. You'll be able to use Android Wear's ability to connect with your smartphone via the internet (even if you're not in the same local area), and you'll have the benefits of Bluetooth Low Energy connectivity to conserve battery.
The ZenWatch 2 works with IP67 water-resistance, which means you can dunk it in water up to 1-meter for up to 30 minutes. You also have complete protection against dust.
Battery
ASUS suggests that you can get 66-hours in "ambient mode" for the model we're reviewing. We don't doubt it, but we've decided to test the device in full-on heavy use.
If you're actually using the ZenWatch 2 for notifications and apps like IFTTT and checking the weather, you're going to get closer to a full day's use. Very, very similar to the Moto 360 (2015) and the ZenWatch 1 – very similar to most every Android Wear watch at the moment, actually.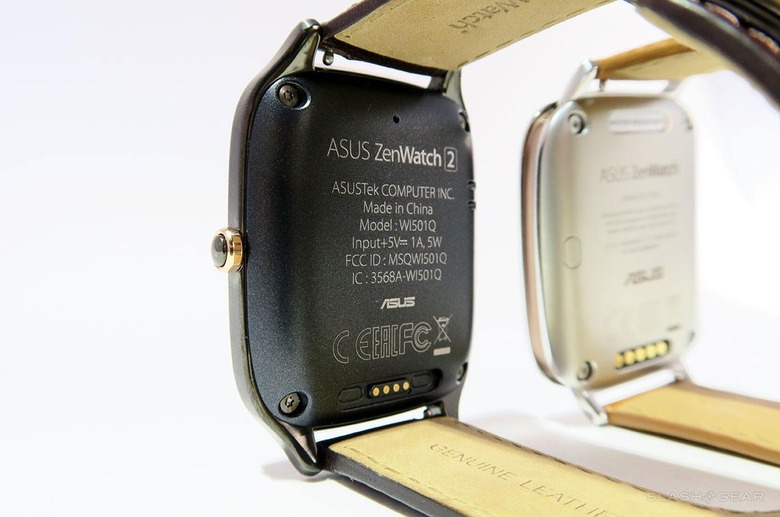 Charging means you're going to be using a magnetic pogo pin charger, similar in technology to what we're using with the Huawei Watch as well as the first-generation ZenWatch. With this charger you'll charge up to about half your battery's capacity in anywhere between 20 and 30 minutes.
The larger ZenWatch 2 has a battery capacity of 400mAh while the smaller has a battery capacity of 300mAh.
Wrap-up
The big difference between this ZenWatch 2 and the rest of the Android Wear world is price. While you're going to be paying $299 for the least expensive version of the Moto 360 (2015), the ZenWatch 2 starts at $129.
ZenWatch 2 (WI501Q) with a band made from rubber and a silver face will cost you $129 – that's a version available anywhere starting for pre-order as of yesterday. There's also a WI502Q (slim) model available with a silver face and leather band (with buckle type strap) for $149, that'll be available "mid-to-end" of October.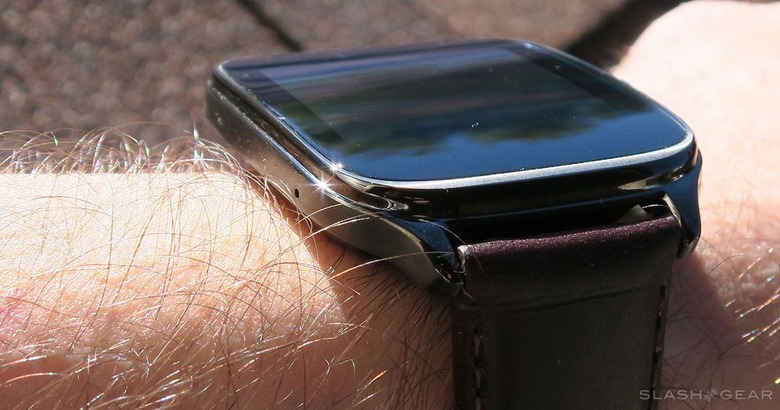 The version you're seeing us review above is the Best Buy Exclusive. This ZenWatch 2 (WI501Q) works with a gunmetal face and a leather band with a clasp, and is available for $149 from Best Buy starting next Sunday. Metal band versions will be coming in November.
If you're looking for a smooth looking square-faced Android Wear watch without the fitness obsession most other watch-makers are obsessing over, ASUS has just what you need. You didn't need to read your heart rate anyway.