ASUS Xonar Xense soundcard & Sennheiser PC350 headphones promise superlative gaming audio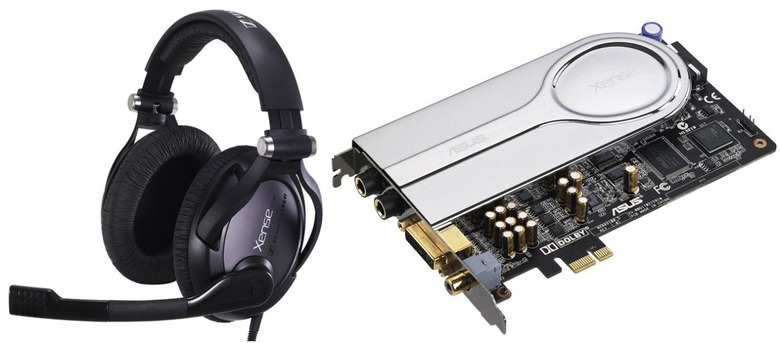 ASUS has outed its latest soundcard, together with a partnership with audio manufacturer Sennheiser, and the two companies reckon their Xonar Xense system is the perfect match for demanding gamers.  Consisting of the ASUS Xonar Xense One audio card and the Sennheiser PC350 headphones, the setup includes first person shooter-optimized surround sound, Dolby Headphone 5.1 and Xonar GX2.5 support, and 6.5mm studio jacks rather than regular 3.5mm sockets.
The promise is that having been developed in parallel, the soundcard and headphones will bring out more detail than "random audio card/headphone combinations".  Whether that's true or not remains to be heard; what we do have are hard specs.
The ASUS Xonar Xense One has 7.1 channel surround sound support (with a splitter cable included in the box), analog and digital inputs, and connections for front-panel audio ports.  Meanwhile the Sennheiser PC350 headphones support a  10 – 26,000Hz frequency range with less than 0.1-percent distortion and have a boom microphone.  No word on pricing; we're waiting to hear back from ASUS.
Update: ASUS tells us the bundle of both Xonar Xense soundcard and PC350 headphones will retail for around £210 ($320).
Press Release:
ASUS and Sennheiser Deliver World's First Total Audio Solution Optimized for First Person Shooters — Xonar Xense

Perfectly Matched Combination Revolutionizes Immersive Sound

for Serious Gamers

The new ASUS Xonar Xense One and Sennheiser PC350 Xense Edition package is the result of cooperation between ASUS and premier personal audio maker Sennheiser. Xonar Xense is a perfectly matched combination of cutting edge audio card and superior quality headphones that reinvents immersive sound for serious gamers. The gaming audio set creates unbeatable sonic experiences in PC gaming that are sure to be appreciated by hardcore gamers keen on competitive online play.

Working Together to Produce Immersive Acoustics

The Xonar Xense audio card from ASUS and the Sennheiser PC350 headphones were co-developed and tuned to augment each other¡¯s strong suits. During the year-long tuning period for Xonar Xense, ASUS engineers tried some 1,000 headphone combinations in pursuing the best match for the new audio component, and the Sennheiser PC350 proved perfect. Unlike random audio card/headphone combinations, Xonar Xense features a holistic design from the ground up, crafting a balance of the two components. There is no quality gap between audio card and headphones, so no quality is lost in transition.

Spatial Awareness with Precision Sound

Gamers experienced in first person shooters know the importance of accuracy, as auditory cues are vital in getting the jump on opponents. This is something Xonar Xense addresses with first person shooter-optimized surround that amplifies even minor ambient effects. Xonar Xense provides listeners with excellent noise reduction and accurate positioning of audio, and these advantages can make or break a successful play session.

Geared for Action with Uncompromised Quality

Xonar Xense boasts meticulous EMI shielding that protects the audio card from nearby PC components and other electronic devices. Sound remains consistent and full-bodied. Likewise, the heavy duty 6.5mm studio jacks offer better conveyance than standard 3.5mm plugs, further ensuring gamers get full spectrum audio. Both card and headphones offer complete support for Dolby Headphone 5.1 as well as ASUS¡¯ own Xonar GX2.5 audio engine. On top of that, the ergonomically-designed headphones allow gamers to fight to the end without experiencing any fatigue.

No longer do PC gamers interested in privacy and considering the peace and quiet of others need to compromise their enjoyment — Xonar Xense makes personal game audio exciting.