ASUS Xonar HDAV1.3 high-def audio-decoding sound card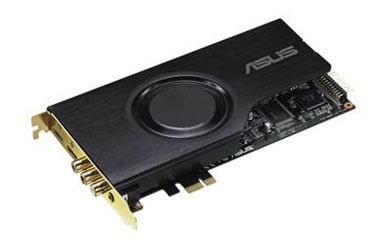 Seeing graphics cards which can take on the strain of decoding high-definition video is quite usual, but ASUS have turned the tables slightly with their Xonar HDAV1.3 sound-card.  HDMI 1.3a compliant, the card takes on decoding surround-sound lossless audio from high-definition media, as well as including an integrated Splendid HD video processor.  It's based on ASUS' own AV200 codec chip, which includes dedicated digital to analog convertors.
That basically means users of lower-powered computers, or those with integrated graphics, can still stand a good chance of playing back Blu-ray content smoothly.  Supported formats include Dolby TrueHD and DTS-HD Master Audio at 24-bit, 96-192 Khz.  Plus, unlike some of the newer graphics cards, the Xonar HDAV1.3 is content with a  PCI Express x1 slot.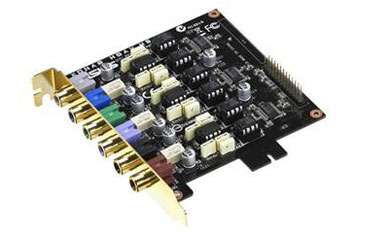 Both the main card and a deluxe package – including the HDAV H6 surround channel expansion card, shown above – use opamp sockets for solder-free tweaking.  ASUS are claiming that distortion is potentially as low as 0.0004% on all 7.1 channels.
No word on price or availability yet, but expect the Xonar HDAV1.3 to come in at over $100.
[via Daily Tech]