ASUS Xonar DG gaming sound card caters to headphones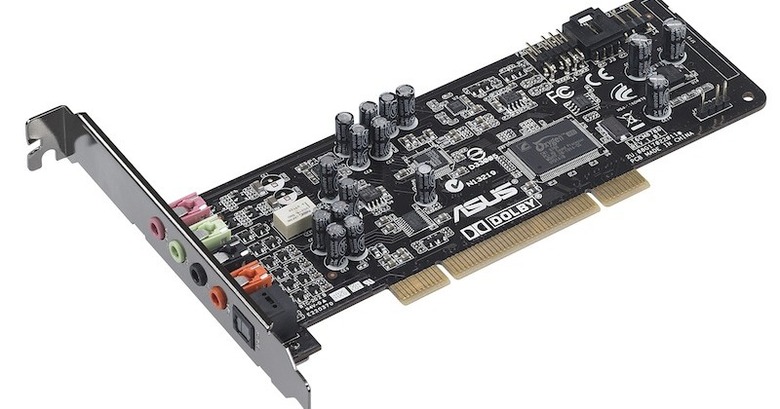 ASUS has taken the wraps off of its latest sound card, the gaming-centric ASUS Xonar DG.  Integrating the company's GX 2.5 gaming audio engine – together with Dolby Headphone 5.1 surround and a headset amp – the Xonar DG is targeted at gamers who prefer to use headphones rather than external speakers, and who find regular sound cards produce underwhelming headphone quality.
Since you get more sales targeting two segments rather than just one, ASUS are also suggesting that the Xonar DG would make a good addition to a compact HTPC; it's a low-profile card, for a start, and the Dolby support means surround sound audio from movies is also supported.  You don't need special, surround-compatible headphones, either: the virtual 3D tech will apparently work with regular cans.
Unfortunately ASUS can't tell us exactly when the Xonar DG will go on sale, nor how much it might cost.
Press Release:
ASUS Unveils the Xonar DG Gaming Sound Card
Optimized for Gaming Action through Precision Audio

The Xonar DG sound card combines Dolby Headphone 5.1 high definition surround with ASUS' own GX 2.5 gaming audio engine and an on-board headset amplifier. The result is accurate and deep audio that brings every nuance and sound across fully, making the new Xonar DG an ideal sound card for gamers who want to remain totally aware of their play environments.

The Xonar Advantage for Gaming and Multimedia

The new Xonar DG sound card joins the existing Xonar range, which includes cutting-edge audio products for PCs such as the Xonar Xense and Xonar Essence, all of which have been tailored towards gaming and multimedia sound with built-in dedicated headphone amplifiers. The emphasis with Xonar sound cards has been to ensure truly immersive, precise audio reproduction in games and movies, making interactive and multimedia experiences more enjoyable.

Standard sound cards offer compromised audio when heard through headphones, resulting in muddy and underpowered reproduction. The new Xonar DG resolves this and other issues with headphone-dedicated amplification. The card has been designed from the ground up to cater to PC gamers who prefer to get sound through personal audio.

Realistic Acoustics

Accurate positioning through surround sound can make a huge difference for gamers, especially in first person shooters. Sound cues are often the only means by which players can pinpoint the location of opponents in a play arena, and so a quality sound card that brings out every rustle, footstep or thump can prove pivotal in gaining a tactical advantage.

The Xonar DG has been designed and built to give gamers the audio edge over the competition and to enhance the user experience.

Ideal for Entertainment Center PCs

The Xonar DG comes in a low profile presentation with a low profile bracket. Therefore, in addition to its role as a gaming sound card, it easily integrates into compact home theater PC configurations that use smaller, space-saving cases.

The powerful amplification of the card comes into play beyond games, rendering movie audio in great detail with lively and impressive reproduction. The same traits hold true for music, making the Xonar DG an excellent all-round multimedia choice. This is bolstered by the card's auto-detection flexibility, as it switches instantly between front and rear panel audio, depending on where headphones are connected.