ASUS WAVI Xtion borrows Kinect tech for HTPC motion-control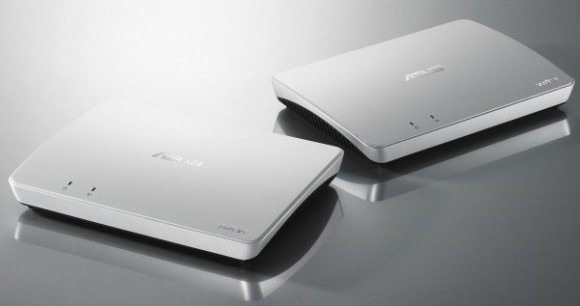 ASUS has announced a new entertainment peripheral, the ASUS WAVI Xtion, which promises gesture-based control for PCs in the living room. The new boxes uses PrimeSense Immersive Natural Interaction technology, and hook up via UWB to connect your TV to your computer. PrimeSense, lest you've forgotten, are the motion-perception brains behind Microsoft's Kinect for the Xbox 360.
As ASUS see it, users will hook up their TV, set-top box and PC, and use WAVI Xtion to control them with easy gestures rather than complex keyboards and remotes. That includes internet browsing, multimedia gallery navigation and social networking. Range is around 25 feet.
WAVI Xtion will be paired with Xtion PRO, a development package for coders wanting to take advantage of the hardware in their own apps, available in February 2011. It seems ASUS has learned from the various Kinect hacks we've seen implemented since the sensor-bar was released, and is looking to engage with as many curious developers as possible. They'll have to wait until Q2 2011 to actually pick up an ASUS WAVI Xtion, however; pricing tba.
[via Engadget]
Press Release:
PrimeSense Teams Up with ASUS to Bring Intuitive PC Entertainment to the Living Room with WAVI Xtion

WAVI Xtion extends PC multimedia content and gesture control from the PC to the TV screen in Q2 2011

TEL AVIV, Israel & TAIPEI, Taiwan–(BUSINESS WIRE)–PrimeSense, the leader in sensing and recognition technologies, and ASUS, a leading enterprise in the new digital era, announced today that PrimeSense Immersive Natural Interaction™ solutions will be embedded in WAVI Xtion, a next generation user interface device developed by ASUS to extend PC usage to the living room. WAVI Xtion is scheduled to be commercially available during Q2 2011 and released worldwide in phases.

"This user interface is a new paradigm that represents how all CE products will eventually be naturally controlled and operated."

The WAVI Xtion media center for the PC leverages wireless HDMI technology and PrimeSense 3D sensing solution to provide controller-free interaction experiences in the living room. Users can browse multimedia content, access the Internet and social networks, and enjoy full body interaction in a more user-friendly and natural living room experience.

In addition to WAVI Xtion, ASUS also adopts PrimeSense solutions to introduce the world's first PC-exclusive 3D sensing professional development solution, Xtion PRO, for software developers to easily create their own gesture-based applications and software. Xtion PRO is scheduled to be commercially available in February 2011. Developers will also have the chance to sell their applications on the upcoming Xtion online Store.

PrimeSense and ASUS will introduce WAVI Xtion and Xtion PRO at the 2011 International Consumer Electronics Show (CES), January 6-9 in Las Vegas. It can be viewed in the PrimeSense booth (South Hall 4, upper level, Booth #36255) and at the ASUS suite (Venetian Ballroom, Level 3, San Polo 3501A and 3501B).

"Our agreement with ASUS for developing WAVI Xtion demonstrates that Natural Interaction technology is already mainstream," said Inon Beracha, CEO, PrimeSense. "This user interface is a new paradigm that represents how all CE products will eventually be naturally controlled and operated."

"ASUS combines its wireless cross-room solution with PrimeSense's simple, intuitive, gesture-based control technology to allow users to enjoy and share PC content on TV with gestures. WAVI Xtion is the unprecedented living room experience that will revolutionize users' recreational lives," said Kent Chien, General Manager, ASUS. "Natural Interaction's appeal to consumers means more monetization opportunities based on personalization, various branding and advertising programs inside applications."

PrimeSense and ASUS are also working together to promote and support the OpenNI developer community with developer kits. PrimeSense's open, smart platform and hardware/software API lets publishers and developers easily apply 3D-sensing technology to a variety of applications and create new Natural Interaction content.

PrimeSense and ASUS are at the forefront of the Natural Interaction movement for controlling digital entertainment devices in the living room – such as the TV, set-top box and PC. This next generation of user interface is bringing together the entire ecosystem of the human sensory experience and closing the gap between humans and machines.

About PrimeSense

PrimeSense is the leader in sensing and recognition solutions, enabling consumer devices to "see" environments and allowing users to control and interact naturally with those devices in a simple and intuitive way. PrimeSense offers affordable solutions for consumer markets including visual/home computing, interactive entertainment and consumer electronics. PrimeSense products include the PS1080 System on Chip and NITE middleware, as well as the PrimeSense3D sensor, plus cross-platform enabling software to make application development easy and intuitive. Headquartered in Tel Aviv, Israel, with offices in North America, Japan, Singapore, Korea, China and Taiwan, PrimeSense is a privately held company. For more information, please visit: www.primesense.com or follow on Twitter @goprimesense.