ASUS VivoTab Smart Tablet gets unique with folding keyboard cover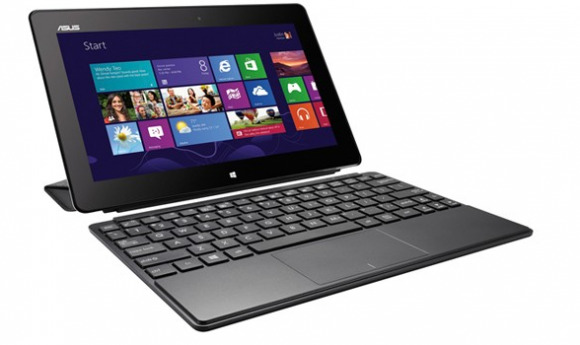 This week the folks at ASUS have revealed the VivoTab Smart Tablet with a fabulous little full type cover for wireless keyboard fun. This maching works with Windows 8 and has an Intel Atom Z2760 dual-core processor powering a lovely 10.1-inch, 1366 x 768 resolution IPS display. This machine may look rather similar to the Microsoft Surface in its outward appearance, but it's bringing an ever-so-slightly more impressive show in the details.
This machine's keyboard cover goes by the name TransSleeve and is able to work as a wireless keyboard, a cover, and a stand – if you do so desire. This machine is set to be one of the more interesting Windows 8 touchscreen additions to the fold this CES 2013 with the option to turn the keyboard into the stand as it does, most offerings from manufacturers over the past several months bringing on solutions where you're either doing without a keyboard entirely or are leaving it to sit while you use your fingers on the display.
What ASUS also brings to the show here is an 8 megapixel camera on the back of the tablet bit, a 2 megapixel camera on the front, and NFC inside, too. This machine will likely be a hot seller amongst those that've been waiting for the Microsoft Surface Pro, that being the full Windows 8 version of the Surface as opposed to the Microsoft Surface RT that's already been on the market for some weeks.
Have a peek at what else ASUS is bringing to the show this week in our ASUS tag portal and see how they're also getting cubical – fun stuff! Be sure to hit up our CES 2013 portal as well for more CES hands-on action and up to the minute updates than you can handle!