ASUS VivoStick offers up a Windows 10 PC for only $129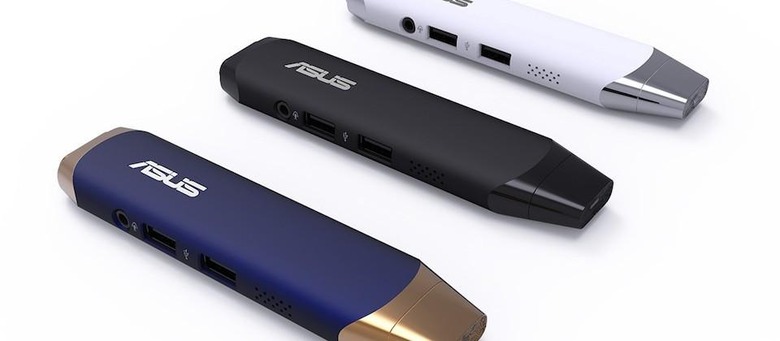 Hot on the heel's of Intel's new Compute Stick, Asus is revealing its own PC-on-a-stick in an attempt to one-up the competition. The Asus VivoStick is pretty much what you'd expect from the form-factor: a pocket-size HDMI stick that plugs into a TV or monitor, turning it into a Windows 10 PC. Priced at $129, the VivoStick already trumps Intel's Compute Stick in value, and it offers a few extra to boot.
The Asus VivoStick is powered by an Intel Cherry Trail processor, outdoing the Compute Stick's Atom CPU. It also features 2GB of RAM and 32GB of internal storage, but it's still not going to compare to a full-fledged Windows PC.
With a slightly more stylish design, the VivoStick at least comes in a snazzy blue and gold color option, something more than just the standard black or white. It also managed to fit not one but two USB 3.0 ports, plus a headphone jack. For connecting a keyboard and mouse, it supports Bluetooth 4.0, along with WiFi 802.11n.
While Asus has revealed the price and specs, availability is still yet to be determined. For those eager to carry around a Windows 10 PC in the palm of their hands, hopefully it will be soon.