ASUS VG236H 3D display packs Full HD 1080p and 120Hz refresh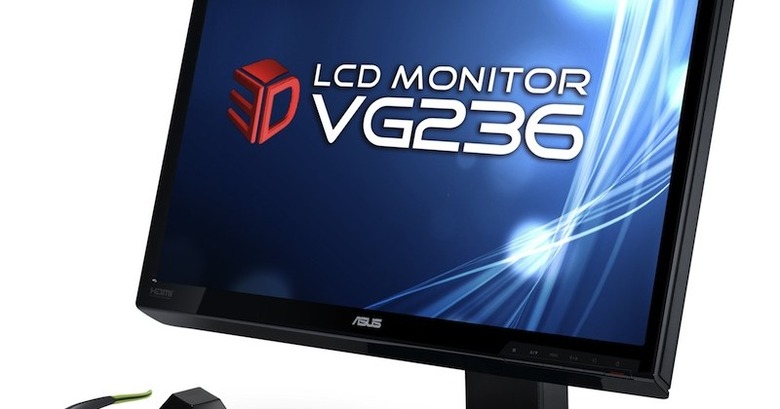 ASUS' latest 3D-capable display, the ASUS VG236H, has arrived, and it certainly ticks all the right spec sheet boxes.  A 23-inch LCD panel supporting Full HD 1080p resolution, the VG236H has a 120Hz refresh speed, 2ms gray-to-gray response time and 400 nits brightness.  As for the 3D, the VG236H supports NVIDIA's 3D Vision system.
3D Vision uses a pair of active shutter glasses and alternate-frame sequencing, and takes advantage of the ASUS monitor's high refresh rate to avoid dropped frames or jerky images.  Connectivity includes dual-link DVI, HDMI and analog component video, and the 3D Vision kit is thrown in the box too.
As for the display itself, that has an anti-reflection coating, five preset color modes – gaming, theater, night view, scenery and standard – and both height and swivel adjustment.  No word on pricing at this stage.
Update: ASUS tell us the VG236H is retailing for £380.36 ($582) in the UK, complete with 3D Vision glasses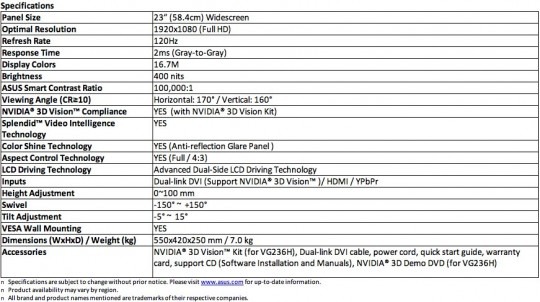 Press Release:
Delve into an Immersive 3-Dimensional World with the ASUS VG236H Monitor
A Full HD monitor with Trace Free II Technology for an Ultra-smooth 3D Experience

Today marks the launch of the ASUS VG236H—a new 23" Full HD 1080p display that boasts market-leading NVIDIA® 3D Vision™ and Trace Free II technologies. It features a 2ms (gray-to-gray) response time and a double-speed 120Hz refresh rate to deliver ultra-smooth 3D visuals in Full HD.

The VG236H lets users enjoy uncompromised, vibrant colors through Color Shine technology with 400 nits ultra-brightness. This ergonomically-designed monitor comes with swivel, tilt angle, and height adjustments to ensure viewing comfort even after prolonged periods of use. It is the ideal display to experience the internet, Blu-ray movies, and games in 3D.

An Immersive Stereoscopic 3D Experience with NVIDIA® 3D Vision™ Technology

The 23" VG236H Full HD 120Hz monitor takes users into a 3D movie and gaming world. Through the use of market-leading NVIDIA® 3D Vision™ technology*, the VG236H takes advantage of active shutter glasses, alternate-frame sequencing, and 120Hz refresh rate to deliver the action at 120fps.

There is no shortage of games either, there are currently hundreds of NVIDIA® 3D Vision™-compatible PC game titles** available on the market.

Driven to Perform in the Most Intense Action Scenes

The ASUS-exclusive Trace Free II Technology combines a 120Hz refresh rate with a 2ms (gray-to-gray) response time to yield smooth, clear visuals.

The double speed 120Hz refresh rate beats conventional 60Hz monitors hands down and is capable of delivering frame rates at 120fps. The ultra-fast 2ms response time effectively eliminates ghosting and tracers to ensure a smooth gaming and movie experience.

Optimized with Ultra-vivid Colors

ASUS Color Shine Technology and 400 nits ultra-brightness ensures users enjoy brilliant and vibrant colors in 3D. Color Shine Technology uses multiple color film coats instead of a single film layer to ensure an exceptionally smooth panel that reduces the diffusion of light. This improves image clarity while at the same time enriching color density and saturation.

ASUS Splendid™ Video Intelligence Technology optimizes color fidelity with five pre-set modes (gaming, theater, night view, scenery and standard). In gaming mode, it automatically lightens up dark, hard-to-see areas while leaving well-lit ones untouched to help gamers locate enemies lurking in dark corners without washing out the colors of the entire scene.

Ergonomically-designed for Viewing Comfort

To ensure user comfort even after prolonged periods of viewing, the VG236H is easily adjustable to cater to almost any viewing angle. It can swivel 150-degrees, height adjustments of 100mm, as well as tilt-angle adjustments.

The entertainment possibilities with the VG236H are endless, it features YPbPr and HDMI ports as well as Dual-link DVI ports for 3D playback. It comes with a built-in cable management feature that helps conceal wires for clutter-free desktops.

*For NVIDIA® 3D Vision™ system requirements, please visit http://www.nvidia.com/object/3d-vision-requirements.html

**For a list of supported games, please visit http://www.nvidia.com/object/3d-vision-3d-games.html