ASUS UL30, UL50AG and UL50VG notebooks: up to 12hrs runtime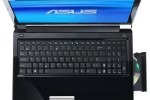 ASUS UK have announced three new laptops in their so-called UnLimited (UL) series, offering up to 12hrs battery life and processors from Intel's CULV platform.  Things kick off at 13.3-inches in the UL30, climbing to 15.6-inches in the UL50AG and UL50VG, the latter having dedicated graphics.  Each comes clad in brushed aluminum and bears Altec Lansing speakers.
All three models have WiFi a/g/n and Bluetooth as standard, together with a multitouch trackpad, webcam and Windows 7.  The quoted battery life is only really possible if you make use of ASUS' Power4Gear system, which offers four power profiles (for high-performance, entertainment, "quiet office" and battery saving), though if you'd prefer to flush away your battery in short order then you can always switch to "Turbo" and boost performance, ASUS claim, by 33-percent.
The ASUS UnLimited Series will arrive in the UK come October 22nd.  Prices start at £599 for the 13.3-inch UL30, £699 for the 15.6-inch UL50AG, and £799 for the UL50VG; the UL30 will also be available through Carphone Warehouse, as a freebie if you sign up to a new mobile broadband contract.
Press Release:
The 12 Hour Aluminium Revolution: ASUS Debut UnLimited Series Notebook Range

The UnLimited (UL) Series Notebook range is set to launch later this month and sets a whole new standard for notebook appeal.

Encased in a modish brushed aluminium cover, the UnLimited Series notebook offers a complete solution for users who seek a fashionable yet powerful means of working on the move, and staying entertained when it's time to relax.

A host of technology features and power settings combine to deliver a polished and superior performance, with energy saving features allowing a staggering 12 hour battery life*. The latest Intel® CULV processor technology not only supports for a skinnier and lightweight design for improved portability, but yields a fast and flawless computing experience for definitive usability.

Available from 22nd October 2009 at a range of high street and online retailers, the pricing will be £599 inc VAT (13.3" UL30), £699 inc VAT (15.6" UL50AG) and £799 (15.6" UL50VG with dedicated graphics). The UL30 will also be available free from Carphone Warehouse as part of a mobile broadband contract (see in-store for specification and contract details).

Key Features:

* 12-hour battery life* for all-day computing

* Intel® Core™ 2 Duo CULV Processor SU7300 – latest generation

* 13.3" or 15.6" high definition widescreen displays

* Dual Altec Lansing speakers with rich sound quality

* AI Light sensor technology for optimum working comfort**

* Ergonomic chiclet keyboard with full-size numeric keypad**

* Multi-touch touchpad for intuitive fingertip control

* GraphiX Boost technology** for switchable graphics to save energy

* Power4Gear technology adjusts settings for power consumption

* Up to 500GB storage**

* Wi-Fi 5100 a/g/n and Bluetooth for connectivity and file sharing

* Webcam built in for instant video communication

* Windows 7 Operating System

* 2 Year Global Collect & Return Warranty

* From £599 inc. VAT**

UnLimited Style – for fashion conscious computer users:

The UnLimited Series notebooks are not just powerhouses – they are powerhouses packed into the most stylish and portable of cases, with a profile less than 1 inch thick and a stunning brushed aluminium cover.

The aluminium materials not only lend a contemporary appeal to the notebook, but are incredibly lightweight and provide incredible resilience against bumps and knocks – making it the ultimate mobile device and perfect for work and play anywhere on the move.

Such a slim design is helped by integrating the next generation Intel® CULV processors which run at cooler temperatures – eliminating the need for bulky fans.

UnLimited Time – All-day computing for uninterrupted productivity:

Offering the ultimate solution for all-day computing, the UnLimited series notebooks are fitted with an eight-cell battery, boasting a life of up to 12 hours* – making it easy for users to work wherever, whenever without worrying about finding a wall socket.

Such a staggering lifespan is thanks to extensive power savings generated by the integration of GraphiX Boost technology** (switches between graphics settings depending on whether graphics-hungry applications are being used) and Power4Gear technology.

Power4Gear offers the ability to turn off hardware devices to conserve energy, and has 4 pre-configured power setting profiles to choose from: High Performance (for power-intensive sessions such as gaming), Entertainment (for movies or music playback), Quiet Office (for general word-processing and work activities) and Battery Saving (for basic use on the move, such as emails and web browsing).

UnLimited Performance – for fast and efficient work and play:

The UnLimited Series notebooks integrate Turbo33 Technology, an exclusively designed feature which enhances performance levels by 33% by fine-tuning the hardware and software. Just select the 'Turbo' option and the resulting power buzz leads to smoother graphics and online streaming for uninterrupted entertainment whether laughing at the latest clips on YouTube or receiving video messages from friends.

Fuelled by two independent processors within the same package (multi-core) and ample memory inside, the UnLimited Series notebook gives a massive acceleration to everyday computing tasks. Users can watch movies, send emails, research on the Internet and create that all-important presentation at the same time – and still notice a faster, smoother multi-tasking experience.

UnLimited Mobility – for busy people on the move:

The mobile essence of the UnLimited series notebooks is completed with the integration of essential components such as Wi-Fi, Bluetooth and a Web Camera – enabling Internet connection, file share and communication away from the home or office.

UnLimited Audio Visual – for mind-blowing multimedia experiences:

With high definition LCD display (in sizes 13.3" and 15.6") the UnLimited Series notebooks have a 16:9 widescreen aspect ratio and feature high quality dedicated graphics cards** – a supreme blend which delivers true-to-life visuals for an astounding movie or video game experience.

Two bespoke Altec Lansing® speakers with SRS Surround Sound™ support the visual magic, distributing pitch-perfect, top quality sound that you wouldn't expect from a notebook – by providing a wider frequency range and deeper bass lines – making home movie-nights and popcorn a rival to the cinema.

UnLimited Comfort – for non-stop work without strain:

An ergonomic chiclet keyboard with full-sized numeric keypad** complements the flushed multi-touch touchpad, which provides an up-to-the-minute means of navigating and using the notebook, with fingertip controls such as pinching, scrolling and sliding offers users an intuitive means of browsing and controlling data.

AI Light Sensor technology** enables the UnLimited Series notebook to automatically adjust the screen brightness levels according to the surrounding environment. In dimmer conditions, such as on an airplane, the brightness will lower to reduce glare on the eyes, and outdoors on a sunny day, it will increase to help visibility – so, users can feel comfortable for longer, allowing them to make full use of their 12 hour battery life* without strain.