ASUS Transformer Pad TF701T release set for October 21st with NVIDIA Tegra 4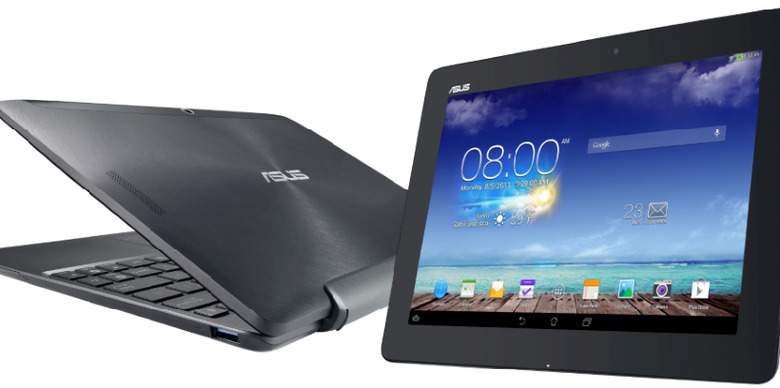 The next generation in ASUS-made Android tablet technology has been revealed with release information this week in the ASUS Transformer Pad TF701T, complete with a release timeframe inside October. This machine works with a Full HD+ display at 2560 x 1600 across 10.1-inches of IPS LCD powered by an NVIDIA Tegra 4 quad-core processor under the hood. This machine also works with USB 3.0 for the newest in speed and efficiency in data transfer and charging.
The ASUS Transformer Pad TF701T continues the tradition of delivering high-powered graphics with NVIDIA started with the Tegra 3-toting Transformer Prime. This machine works with Miracast for Wi-fi video streaming, wired HDMI connectivity – with full 4K Ultra HD display-driving abilities, and 178-degree viewing angles on its own panel. This newest in new TF701T brings on high-quality speaker technology as well with ASUS SonicMaster audio to round out its entertainment abilities.
This device is delivered with an optional Mobile Dock as in past iterations – making this machine a real Transformer with a full keyboard. This Mobile Dock (keyboard dock) works with a multi-touch touchpad and a setup not unlike past iterations of the keys, making the full setup ready to roll with the machine's built-in Polaris Office suite. You'll also find a single USB 3.0 port here for SuperSpeed storage devices.
The Mobile Dock also works with an SDXC card slot for additional storage, working right alongside the tablet itself's microSDXC slot for storage expansion. You'll find a built-in battery in the dock as well, extending the life of the full setup by a lovely 13-17 hours.
This machine also works with a new TransCover that'll allows you to skip the keyboard dock cover. This TransCover is a synthetic screen cover and hard rear shell that folds up and props the screen at an angle ready for on-screen typing as well as watching video. The TransCover itself will be rolling out for a cool 34.99 British pounds – will hear the full international price soon enough.
The same goes for the price of the tablet itself. While we do have a price central to the UK – at 429.99 pounds, we'll have to wait for an international price in the near future. The release date for this edition of the machine will be October 21st, with more releases for other regions on the way.