ASUS Transformer Book Trio Ultraportable Unveiled At IFA 2013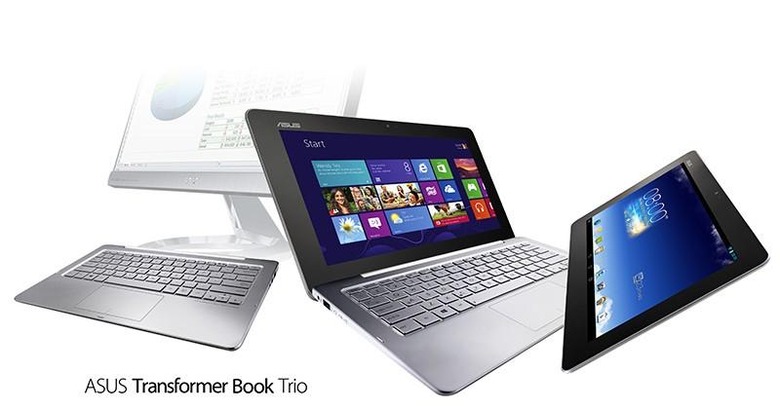 Knowing that people want the best of everything without needing to buy everything, ASUS announced its Transformer Book Trio today at the IFA 2013 show in Berlin. This three-in-one ultraportable device, the world's first according to ASUS, marries not only the two form factors of a notebook and a tablet, but also combines the top operating systems Windows and Android in one complete package.
This is not the first time we've heard of this three-in-one deal, but for those who haven't heard of it when ASUS first unveiled it last June, here's the lowdown. The ASUS Transformer Book Trio is basically two computers in one. Unlike other tablet/laptop hybrids, the keyboard isn't simply a convenient keyboard dock with extra slots or a battery. The Transformer Book Trio's dock is what ASUS dubs as a PC Station, a complete, independent headless computer that just needs a monitor to be attached. It seems that the company is now ready to put the device into full gear and get it into consumers' hands soon.
The tablet half of the Transformer Book Trio sports an 11.6-inch Full HD IPS display with a wide 178-degree viewing angle. It runs on a low-power Intel Atom processor, which has probably been upgraded from the 2.0 GHz Z2580 that we saw last June. It still sports up to 64 GB eMMC internal storage and runs Android 4.2. Perhaps not atypical for Intel-powered Android tablets. Things get more interesting, however, with the PC Station.
Calling it simply as a dock would indeed do it a disservice. Powered by an i5 or i7 fourth generation (Haswell) Intel Core processor, the PC station acts as a complete portable computer when the tablet is undocked. The station sports a metallic design and the keyboard is backlit. It has a storage capacity of up to 1 TB, which can be shared with the tablet part. An external display can be attached via a Mini DisplayPort or micro-HDMI. When docked, the tablet can act as a display for the Windows 8 OS running on the PC Station, with a simple press of the "Trio" key on the keyboard to switch between the two operating systems instantaneously.
The tablet's connectivity features include 802.11ac WiFI and Bluetooth 4.0, while the PC Station supports 802.11n WiFi and Bluetooth 3.0. ASUS has not made any hints as to pricing and availability, but we wouldn't be surprised if it gets a high price tag, considering you're paying for basically two devices.
SOURCE: ASUS