ASUS Transformer Book Trio runs Android and Windows on lap, desk & in hands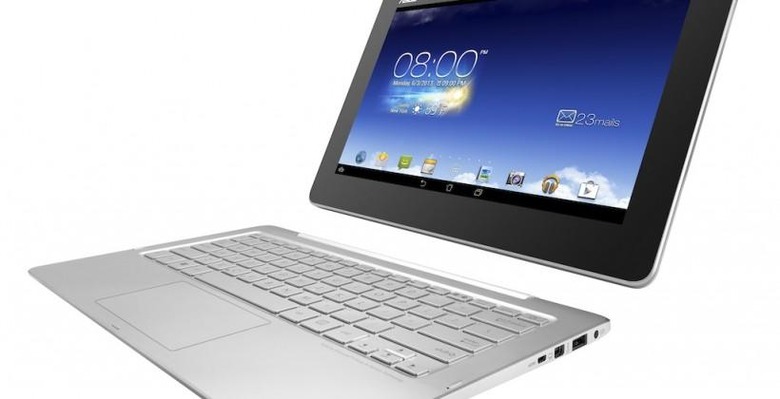 A good notebook can't just do one thing well these days, it has to multi-task in at least two ways, and so on that front the ASUS Transformer Book Trio is off to a good start. Revealed at Computex 2013 this morning, the 11.6-inch notebook is billed as "the world's first three-in-one mobile device" with a removable screen section that can flip between Windows 8 and Android, and which can be used both on the desktop and while mobile.
In ultrabook mode, the Transformer Book Trio is a compact ultraportable with a full keyboard and a 1080p HD display. However, it can also be pulled from the keyboard to make an Android tablet, or slotted into a PC Station dock for desktop use.
In the slate section itself, there's a 2.0GHz Intel Atom Z2580 processor and up to 64GB of storage: that can run either Windows 8 or Android 4.2 Jelly Bean, depending on which mode you switch between. There's a dedicated key to hop between the platforms, and ASUS says that users should not only be able to access data from the other OS, but stay on the same webpage they're currently viewing.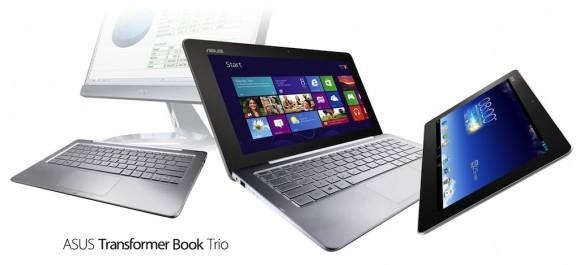 The PC Station gets its own, dedicated processor, however: a 4th-gen Intel Core i7 no less. There's also a 750GB hard-drive, and connectivity for an external display if 11.6-inches isn't quite your ergonomic ideal for desk-bound operations. The dock recharges the slate section's battery, too.
ASUS hasn't confirmed pricing for the Transformer Book Trio, though it's expected to reach the market sometime in Q3 2013. Whether there are sufficient buyers intrigued enough in a twin-OS hybrid that can only really be used by one person at a time (unlike, say, an ultrabook and a separate Android tablet) remains to be seen.