ASUS tease color combinations for tablets at MWC 2012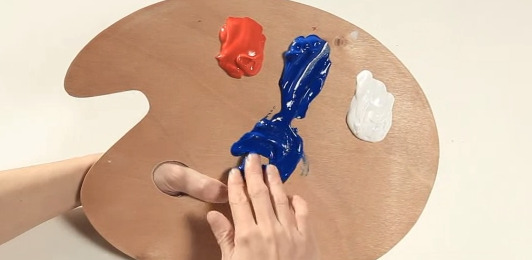 There's another brand new teaser video in town this week, coming from ASUS with three colors in mind: Red, White, and Blue, painted right over the tablet landscape. Here's what we're figuring, given the information we have so far: this teaser is for the PadFone. Thus far we've gotten one teaser called "Divided We Stand" complete with some Russian nesting dolls, then we got a "Twice the Pixels, Twice the Fun" teaser which showed how if you put a bunch of rubber balls in a bin, they look better if there's more of them, now we get this. This teaser has three colors on a pallet, a painter smooshing one of them and stamping out a masterpiece on canvas.
The theme of this particular teaser is "Red, White, and Blue, what can we play?" and simply must mean that whatever model tablet ASUS is revealing at the events will have a collection of different-colored plastic battery covers. Or it could mean that ASUS has some new bit of software that makes it extra intuitive to do artwork on the tablets they already have. What we're really banking on here is a combination of both, but mixed in with the model TF300T, a brand new upgraded model of the original ASUS Eee Pad Transformer complete with an NVIDIA Tegra 3 quad-core processor and lower-level specs than the Transformer Prime or the Transformer Prime 700 series.
This would fit in with ASUS plan when they released the Transformer Prime to keep with a two-tiered system where the Transformer was an affordable 10-inch tablet while the 10-inch tablet with a premium flavor was the Transformer Prime. Having seen and used the Transformer Prime for many weeks now, we must agree to the idea that this is a premium experience, while the original Transformer should be a bit less expensive than it currently is. Will ASUS surprise us all with a better tablet with a lower cost?
It's certainly happened before – and it was ASUS that did it! Head back to the announcement of the MeMO $249 tablet at CES 2012 to see what I mean. Then check the timeline here to get up to date on everything ASUS as we head to Mobile World Congress 2012 – we fly out tomorrow!