ASUS Eee Pad MeMO announced for $249, ICS and quad-core in tow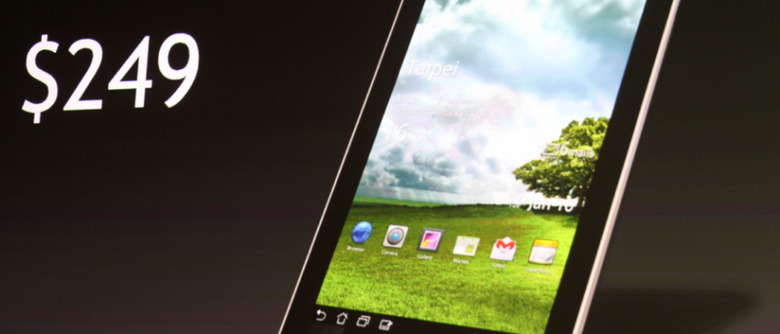 NVIDIA and ASUS have announced not only the first official (according to Google) Ice Cream Sandwich tablet this week with the Transformer Prime (its release from today,) they've come out with the real release of the ASUS Eee Pad MeMO, a 7-inch tablet with a quad-core processor and Android 4.0 Ice Cream Sandwich, all of it for a mere $249. This is the real iPad killer, as that term has become so common, and here it is. The display is a lovely 7-inch WXGA resolution IPS panel, there's 1GB of memory inside, and it has an NVIDIA Tegra 3 quad-core processor on the inside.
While the specifications matter a lot, we've got the best of the best right here in the price: a 7-inch tablet that runs the newest version of Android WITHOUT a bunch of junk over the top (you know who you are) and all of it for cheap! This tablet is the next generation of cheap tablet and it's not junk like the rest – it's top of the line. Everything we've seen Tegra 3 do in the past, this device does it to. That includes playing multiplayer Shadowgun.
The folks at NVIDIA have come correct with their offering today, and ASUS is high fiving them all the way. Does this look like the masterpiece you've been looking for, Android lovers? We'll certainly be enjoying reviewing it soon! Until then – we'll be bringing you some hands-on pics and video this week!
Also note here in the timeline that we've seen the name "MeMO" before in a few different form factors – ASUS do you have more MeMOs up your sleeve? We'll find out soon!